HU's Jermaine Marrow winning eye-popping stats
4/5/2019, 6 a.m.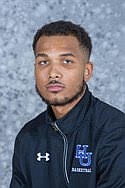 Basketball players like Rick Mahorn and Jermaine Marrow don't come along very often.
Mahorn was undeniably Hampton University's premier talent of the 20th century.
Now it's Marrow's turn to take a shot at HU "man of the century" accolades, albeit with many decades to go.
Known as "Mayno," the sophomore guard from Heritage High School in Newport News is having a spectacular season statistically, while also spurring the Pirates to their longest postseason ever.
In its first season of competition in the Big South Conference, Hampton has won three games in the CollegeInsider.com Postseason Tournament, or CIT, advancing to the semifinals.
Coach Buck Joyner's squad defeated St. Francis College of Brooklyn, N.Y., 81-72; Charleston Southern University 73-67; and New Jersey Institute of Technology 82-70, to improve to 18-16 overall.
Marrow's solo numbers are eye-popping. He averages 24.7 points while adding 168 assists, 139 rebounds and 55 steals. Adept at attacking the rim and drawing fouls, Marrow is 215-for-265 at the line for 83 percent.
Heading into the CIT semifinal game against Marshall University on Tuesday, Marrow had 839 points this season and 1,972 for three seasons covering 99 games.
He'd already surpassed Mahorn's one season record of 855 points that was set in 1980, and has a target on Mahorn's career mark of 2,418 established 1976 through 1980.
While Mahorn and Marrow have similarities in terms of production, they couldn't be more different in other areas.
Mahorn, at 6-foot-9, 250-pounds from Hartford, Conn., went to star 18 seasons in the NBA.
By contrast, Marrow stands 6 feet and is, a slender 182 pounds. He can practically jog home for mom's home cooking.
"Mayno is cocky, with a little man's syndrome," Coach Joyner told The Undefeated. "If I told him he was going up against the best guard in the country, he'd respond, 'Oh, I didn't know I was playing myself.' "
The Hampton Pirates won the CIAA Tournament in Mahorn's senior season of 1980. As a member of the NCAA Division I MEAC, the No. 15 seed Pirates stunned the nation in 2000 by upsetting No. 2 Iowa State University in the NCAA Tournament's first round.
"Mayno has a legacy to chase," Coach Joyner said. "He's following in the steps of Mahorn and Tarvis Williams," star of the 2000 team.
Marrow wears HU blue and white jersey No. 2, but he's clearly the No. 1 Pirate, at least for this century.