VIA Heritage Association inducts 4th Hall of Fame class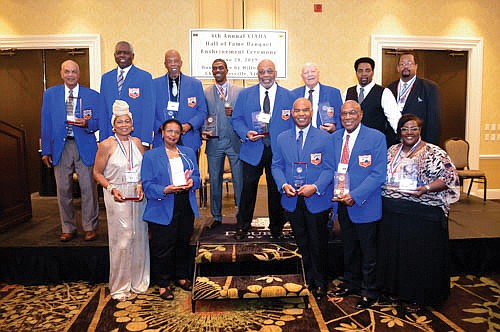 The Virginia Interscholastic Association held its fourth annual Hall of Fame induction ceremony June 28 in Charlottesville.
Inductees, or their representatives, accepted the award from the VIA Heritage Association, which sponsored the event.
Shown here are honorees or their representatives:
Front row, from left, Denyce Bonaparte, wife of inductee the late Charles Bonaparte; Cheryl Anthony Epps; Judge Roger L. Gregory; Coach Willard Bailey; and Della R. Earley, representing honoree the late James H. "Blue" Earley.
Back row, from left: Benjamin "Benny" Brown; Robert
"Bobby" Dandridge; Warren Canada Jr.; Louis Richard Harris, representing honoree Lewis Harris III; Fred Harold "Doc" Sawyer; Coach Carl Peal; James Earley, son of inductee the late James H. "Blue" Earley; William Lawson III, representing cousin and honoree William Albert "W.A." Brown.
VIA served as the governing body for sports and extracurricular activities for Virginia's African-American high schools from 1954 to 1969 during state-imposed racial segregation. VIA later merged with the all-white Virginia High School League.
The most recent class brings VIA Hall of Fame membership to 62.