Fairfax battles sexual assault allegation
Reginald Stuart | 2/8/2019, 6 a.m. | Updated on 2/14/2019, 3:57 p.m.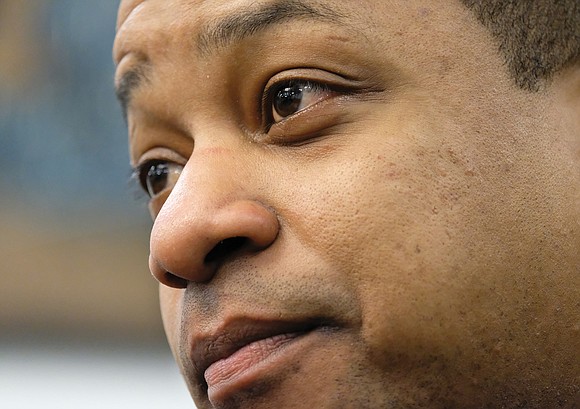 Lt. Gov. Fairfax, a former federal prosecutor, sought to dispel the interest, but only succeeded in stoking the fires with his statements.

"Lt. Governor Fairfax has an outstanding and well-earned reputation for treating people with dignity and respect," the initial statement from his office read. "He has never assaulted anyone — ever — in any way, shape, or form."
The statement from Lt. Gov. Fairfax's office also noted that the Washington Post had been approached by his accuser, but that the newspaper did not publish anything because the allegation could not be corroborated.
But the statement also alleged the newspaper had found significant "red flags and inconsistencies" with Dr. Tyson's claims, prompting The Post to publish a story providing far more detail about the allegation and denying that it had found any such problems. Instead, the newspaper said that it had not been able to corroborate the story.
Additional comments from Mr. Fairfax, which sought to discredit Dr. Tyson, only led her to comment further.
Supporters of the lieutenant governor cautioned fellow Virginians not to draw quick conclusions.
The Post, which was told in 2017 of the allegations by the Stanford Fellow, said it never wrote a story about the assertion after several months of investigating, including interviewing the accuser and hearing from Lt. Gov. Fairfax.
There was nothing to "corroborate" the woman's story, The Post said in its story.
"As I have stated previously, fifteen years ago, when I was an unmarried law student, I had a consensual encounter with the woman who made the allegation," Lt. Gov. Fairfax said in a statement issued from his office Wednesday afternoon.
"At no time did she express to me any discomfort or concern about our interactions, neither during the encounter, nor during the months following it, when she stayed in touch with me, nor during the past fifteen years," he said.
Mr. Fairfax said the first "indication" he had that she had some concern about their 2004 encounter was when he was contacted by a national media organization before his inauguration in January 2018.
In a detailed statement purportedly written by Dr. Tyson and released by the Katz, Marshall and Banks, the same Washington firm that represented professor Christine Blasey Ford in her allegations against U.S. Supreme Court Justice Brett M. Kavanaugh, Dr. Tyson offered a graphic, detailed recollection of what she said occurred on that day in Boston.
Dr. Tyson stated, "What began as consensual kissing quickly turned into sexual assault." She then detailed what she said was him forcing her to have oral sex. She described herself as "utterly shocked and terrified," adding she "cried and gagged."
In telling The Post her story in 2017, Dr. Tyson said there were no other people present in the hotel room that day and no one could verify her account of Lt. Gov. Fairfax's alleged actions.