CIAA Tournament starts Feb. 25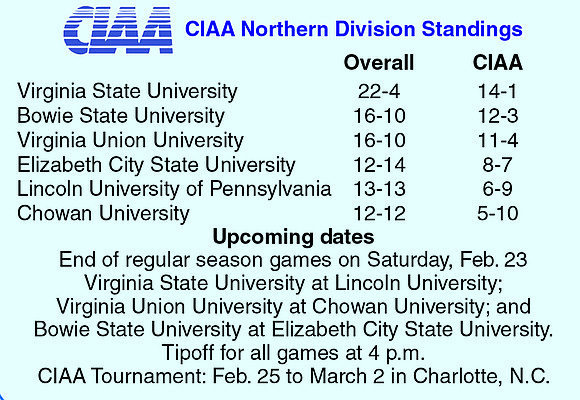 CIAA statistical leaders:
Scoring: Amir Hinton, Shaw University, 31.0
Rebounds: Saiquan Jamison, Bowie State University, 11.1
Assists: Gus Rowland, Chowan University, 7.3
Steals: Gus Rowland, Chowan University, 2.5
Assists/Turnover ratio: C.J. Wiggins, Virginia State, Plus 3.1
Blocked shots: Tyjhai Byers, Elizabeth City State University, 2.6
Three-point percentage: DaVaughan Kelsie, Shaw University, .395
Three-pointers per game: DaVaughan Kelsie, Shaw University, 2.9
Note: Rowland hails from Henrico High School; Wiggins from Benedictine; and Kelsie from Richmond's Thomas Jefferson High School.
Just two days after the CIAA's regular basketball season ends, the "second season" will begin.
The regular season ends Feb. 23, setting the stage for both men's and women's tournaments Feb. 25 to March 2 in Charlotte, N.C. A weeklong series of musical, educational and cultural events surround the tournament.
Final tournament seeding will not be determined until after games this Saturday, Feb. 23.
The CIAA has one of the longest-running tournaments in all of college basketball. The first tournament was held in 1946, with North Carolina College (now North Carolina Central University) defeating Virginia Union University in the final in Washington.
The VUU men's and women's teams both won last year's CIAA Tournament. It marked the first title for the VUU men's team since 2006. Virginia State last won the CIAA in 2016.
CIAA Tournament men's and women's champions advance to the NCAA Division II Atlantic Regional playoffs later in March.
Following preliminary rounds earlier in week, the CIAA men's quarterfinals, semifinals and finals will be Feb. 28, March 1 and March 2. The women's quarterfinals will be Feb. 27, semifinals March 1 and finals March 2.