Thomas 'T.C.' Harrell, co-founder and former owner of Carolina Bar-B-Que, dies at 86
1/18/2019, 6 a.m.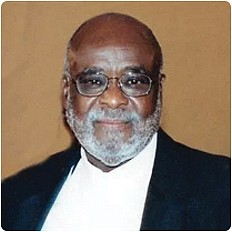 Thomas Christopher Harrell was the barbecue man of Church Hill for 44 years.
Known to customers and friends as "T.C.," the no-nonsense, though kindly Army veteran served up his own creations and family recipes for tangy, vinegar-based pork barbecue, ribs, cole slaw and greens at Carolina Bar-B-Que, the restaurant he started with his brother, Paul, in 1970 at 3015 Nine Mile Road near the Creighton Court public housing community in the East End.
"That business was his baby," said his daughter, Marilyn Harrell. "He made it the success it was. He cared so much for the people in the community. He always tried to make sure they had a good product, that the food was always properly prepared and that the place was spotless.
"He was best known for his breads and barbecue."
Mr. Harrell is being remembered following his death on Wednesday, Jan. 2, 2019. He was 86.
Family, friends and former employees and others celebrated his life on Wednesday, Jan. 9, at Rock Hill Baptist Church in Mechanicsville, where he was an active member and served on the Male Usher Board since moving to the Hanover County community.
Mr. Harrell started the takeout business with his brother, but quickly bought him out. He owned and operated the business until August 2014 with his wife of 64 years, Mildred C. Harrell, who died in 2017.
His restaurant was among the constants in a section of the city that has seen its share of ups and downs. He beefed up security after two robberies, but for the most part, employees said he was an admired figure whom the community as well as local police looked out for.
While he was a significant employer in the area with eight to 10 workers at the restaurant, he also relied on family help, his daughter said.
"My mother worked with him and also handled the bookkeeping," Ms. Harrell said.
"My brother and I worked in the shop when we were younger. And for about 20 years, I handled the payroll," she said.
While Mr. Harrell earned a reputation as a stickler for food quality and cleanliness, longtime employees said their boss was a soft touch who would give away food to mothers and children who came in begging for something to eat. They also said he was a mentor and father figure to his workers, who mostly came from Creighton Court.
"For employees, it wasn't just work. It was like being part of a family," Ms. Harrell said. She noted that Carolyn Brown served as manager during most of the four decades that Mr. Harrell owned the business.
Mr. Harrell sought to make sure the business continued when he retired. He sold the restaurant to a married couple he recruited, Alicia and Lamont Hankins, who now operate Carolina Bar-B-Que as part of their Inner City Blues company.
Born into a family of six in Oak City, N.C., in 1932 during the Great Depression, Mr. Harrell dropped out of school in the eighth grade to work on nearby farms to help support the family after his parents divorced. He was 13 when the family relocated to Richmond's Church Hill.
As a teen, he worked odd jobs before being hired at 19 to drive trucks for Standard Paper Co. He was drafted into the Army in 1952 during the Korean War and was assigned to a unit that recovered American bodies from battlefields. He earned the Bronze Star for braving enemy fire to do that difficult job.
After his discharge from the military, he returned to Richmond where he drove trucks for the paper company for another 16 years. He also gained business experience operating a lawn care service.
He was 47 when he quit driving to open the barbecue restaurant in the small building that became was known for its distinctive mural of a man chasing a pig with an axe.
In addition to his daughter, survivors include his son, Linwood Lancaster Sr.; a brother, Robert Harrell; and three grandchildren.