Personality: G. Sylvia Jackson
Spotlight on Grand Worthy Matron of the Grand Chapter Order of the Eastern Star of Va.
7/19/2019, 6 a.m.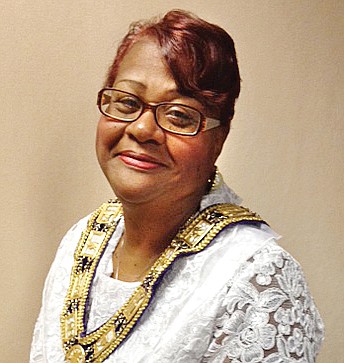 59th Grand Worthy Matron.
Date and place of birth: Jan. 12 in Henrico County.
Current residence: Henrico's Varina District.
Education: J. Sargent Reynolds Community College.
Family: Son, Darryl, and granddaughters Darvisha and Dariana Jackson.
When elected and length of term: Elected July 2018 in Hampton and will serve until July 2020.
Position in OES before election: Grand Associate Matron.
OES of Virginia's total number of members today: Total membership across Virginia is 4,331.
Number of OES chapters in Virginia: There are 92 chapters in the state with 12 in the Richmond area: Richmond #1, Fannie Lewis #4, East End #79, Carey Wheaton #204, Nannie J. Perkins #161, Queen Ebony #241, Hannah #26, Henrico #78, Elizabeth Harris #86, Mary C. Stew- art #128, Eva M Jackson #211 and Elizabeth S. Spurlock #236, of which I am a member.
Reason: To support the wives, daughters, sisters and mothers of Master Masons. Realizing one of the great tenets of Masonry was that of charity, the thought of executing this without the touch of a woman, with her sympathy, understanding soul and human love, would be barren and its influences would die. It was these ideals that prompted the idea to organize the Order of the Eastern Star to give the black woman a right to share in its heritage and honor and be made a part of their program.
Its mission: Our mission state- ment is "An Organization based on the Bible that works together to enhance the growth of the Community."
History of OES of Virginia:
A meeting of the Eastern Star Chapters of the state of Virginia was held on Nov. 28, 1901, at 511 W. Clay St. in Richmond. The purpose for the meeting was to organize a Grand Chapter. The total membership of the Grand Chapter at that time was 115. The first annual Grand Session was held June 24, 1902, in Petersburg. The first Grand Worthy Patron, Dr. H.L. Harris, held that position for 19 years. During his tenure, the Grand Chapter increased to 60 chapters, with a membership of 2,952 members. An Endowment Board and an Executive Board were instituted. A Juvenile Department was organized in 1904. That department is still operating today with approximately 150 children. In 1992, a Scholarship Committee was organized and the organization is still annually giving scholarships to students. As the Grand Chapter grew, so did its charitable works. The Grand Chapter has supported such organizations as the NAACP, the United Negro College Fund, MCV Cancer Fund, March of Dimes, Sickle Cell Society and various local charities in the cities where the sessions were held.
My No. 1 objective as Grand Worthy Matron: To increase membership and to educate the public on the many charitable endeavors we support.
The power of the Grand Worthy Matron: Oversee the direction and future of the organization.
What's expected of a Grand Worthy Matron: To be charitable, understanding, transparent, business-savvy and, most importantly, faithful, obedient and Christ-like.
Outlook at start of the day:
Before I get out of bed, I take a few minutes to smile and thank God for one thing or person that He has put in my life.