4 John Marshall basketball players sign with college teams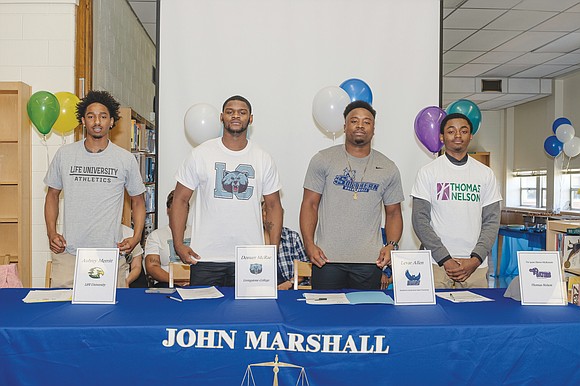 Years ago, the basketball coaches and players at Richmond's John Marshall High School sowed the seeds of success, which have been watered with the perspiration of hard work.
Now the players are harvesting the rewards.
Four members of the John Marshall Justices basketball team signed full scholarship offers in a trumpeted ceremony June 5 in the school library that drew an overflow audience of family, friends and media.
Under Coach Ty White, the seniors helped the North Side school to the State Class 3 championship in 2018 and to the state semifinals this past season.
The signees are:
• DeMarr McRae — The four-year starter will continue his education and basketball at Livingstone College in Salisbury, N.C. The Blue Bears won CIAA titles in 2011, 2014 and 2015 under Coach James Stinson.
• Levar Allen — A four-year starter, the play-making guard is headed to Southern Connecticut State University in New Haven. The Owls compete in the NCAA Division II Northeast 10 Conference.
• Aubrey Merritt — The quick, do-it-all guard has signed with Life University in Marietta, Ga. The Running Eagles compete under the NAIA umbrella in the Mid-South Conference.
• Tre Harris-McKenzie — After serving as a key man coming off the John Marshall bench, he is headed to Thomas Nelson Community College in Hampton. The Gators compete on the junior college circuit.
There's more to come.
A fifth senior on the team, Jairus Ashlock, is still involved in the recruiting process and will announce his collegiate destination in the coming weeks.