Documentary on African-American men and mental health Saturday
3/22/2019, 6 a.m.

Black men's mental health is spotlighted in a documentary film being screened this weekend in Richmond.
"Man... Listen: A Social Documentary on Mental Health in African-American Men" will be shown during a program 3 to 6 p.m. Saturday, March 23, at Agape International Ministries, 8001 Staples Mill Road.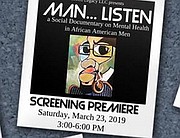 A question-and-answer session, as well as a spoken word performance by Roscoe Burnems of The Writers Den, will follow the screening.
"Man... Listen" highlights and investigates the unique experiences African-American men face daily that can impact mental health though interviews with a diverse group of men.
The documentary was produced by sisters Nikkea Sharee, an Essence magazine best-selling author, and Ciara J. Lewis, a graduate of the Los Angeles Film School, through their company Kweli Legacy. It is the second in a series that Kweli Legacy is doing on mental health in the African-American community.
Tickets are $15 in advance; $25 at the door.
Details and tickets: www.eventbrite.com, www.facebook.com/KweliLegacy or email kwelilegacy@yahoo.com.