Youth Matter Showcase wraps up youth violence Prevention Week activities
3/22/2019, 6 a.m.

A Youth Matter Showcase, presented from 5:30 to 8 p.m. Thursday, March 21, at Pine Camp Cultural Arts and Community Center, will help round out the 2nd Annual Youth Violence Prevention Week coordinated by Richmond's Youth Violence Prevention Coalition and the INSPIRE Workgroup.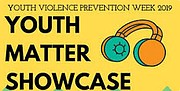 The showcase will feature performances, artwork and visual imagery by young people in a non-competitive event at the North Side center, 4901 Old Brook Road.
The event is part of a weeklong schedule of youth-led activities, community conversations, policy forums and awareness activities to call attention to youth violence and strategies to prevent it.
Activities began Monday and will conclude Friday, March 22, with a United in Action Day from 4:30 to 8 p.m. at Six Points Innovation Center, 3001 Meadowbridge Road. Youths and their families and others are invited to enjoy music, karaoke and games.
INSPIRE Workgroup is comprised of public agencies, nonprofit organizations and Richmond residents.
Details: Shanel Lewis, inspireworkgroup@gmail.com.