James T. 'Jim' Burch, longtime college basketball official, dies at 91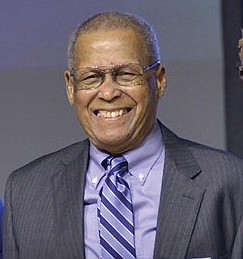 James T. "Jim" Burch, whose career as a college basketball official spanned nearly 60 years, died Sunday, May 19, 2019, at his home in Apex, N.C. He was 91.
Mr. Burch began officiating in the CIAA in 1959, and in 1969 became the first African-American to call an Atlantic Coast Conference game.
In addition to the ACC, he called games in the CIAA, MEAC, Southern Conference and South Atlantic Conference.
He also officiated at 14 NCAA Tournament games in both Division I and Division II.
Most recently, he served as the CIAA's coordinator of basketball officials for 18 years before retiring in 2018.
Mr. Burch also trained and mentored hundreds of officials through the years.
He was recognized for his contribution to the sport with inductions into eight halls of fame, most recently the CIAA Hall of Fame in March.
A native of Raleigh, Mr. Burch was a standout athlete at Fayetteville State University, graduating in 1949 before becoming a college official.
Away from the hardcourt, Mr. Burch was a long-time teacher and administrator with the Charlotte-Mecklenburg Schools in North Carolina.