RVA East End Festival June 8, 9 at Chimborazo Park
5/31/2019, 6 a.m.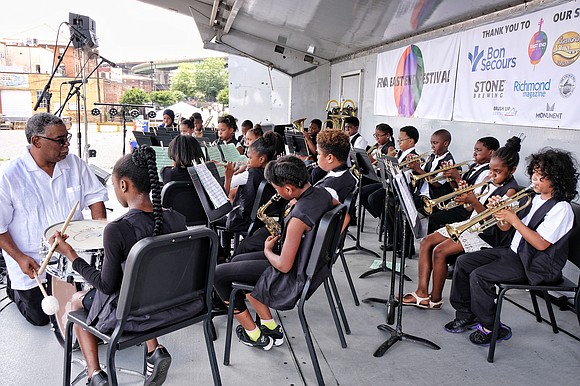 RVA East End Festival, a free, two-day celebration featuring the art and musical talents of public school students in Richmond's East End, will be held Friday, June 8, and Saturday, June 9, at Chimborazo Park, 3201 E. Broad St.
The Richmond Symphony, in collaboration with the City of Richmond and several civic organizations, is providing its "Big Tent," a traveling amphitheater-style stage, to produce the festival.
Money raised at the festival through individual donations and corporate and foundation support is used to boost music and arts programs at Richmond Public Schools in the East End. Now in its fourth year, the festival has raised more than $200,000 since its inception.
Festival highlights include a Saturday evening performance by the Richmond Symphony and daytime events featuring student musical and dance performances as well as local artists.
"This is a great opportunity to deliver positive messages — self-love, equity in social justice and education and fairness in our community — through music," said Zenobia Bey, aka ZBey, a spoken-word artist who will perform with the River City Blues Band on Saturday afternoon.
Saturday's schedule starts at noon and ends after the symphony's 7 p.m. performance. Among the groups performing on Saturday are the Franklin Military Academy Orchestra, the Armstrong High School Dance Troupe, the Chimborazo/George Mason Band and Orchestra, Martin Luther King Jr. Middle Tritan Elite Dance and the Bellevue-Fairfield-Woodville Combined Band.
Sunday's performances from 1 until 6 p.m. include Hill City Church, Sa'Vannah Aaliyah, Disciples of Praise and Cora Harvey Armstrong.
Along with the performances, there will be food trucks, a beer garden, local retail vendors, community organizations, face painting and appearances by costumed characters.
Details: www.richmondsymphony.com/event/rva-east-end-big-tent-community-festival/2019-06-08.