Big sounds
VUU Ambassadors of Sound Marching Band gets first female drum major
Bonnie Newman Davis | 9/6/2019, 6 a.m.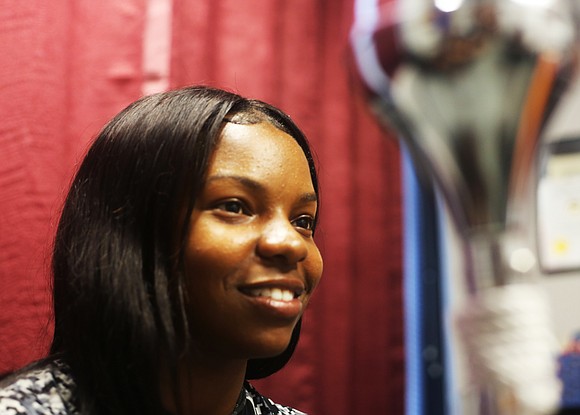 Six years ago, the Ambassadors of Sound Marching Band was started, and Ms. McGhee is taking her place in band and university history.
As drum majors, Ms. McGhee and Mr. James are considered the band's captains, Ms. Cousins said.
"They teach, organize, conduct band maneuvers, dance blocks and steps and select songs. They keep us relevant," she said.
Ms. Cousins also credits Ms. McGhee's ability to listen, along with her consistency and persistence in pushing through challenges, with helping her land the top spot.
"I can't tell the difference between her and the boys," Ms. Cousins said. "She's always sharp and intentional about everything."
Mr. James, who also auditioned last spring, welcomes working with Ms. McGhee, whom he views as a younger sister.
"My goal is to leave my legacy," he said. "I'll be graduating in May. I want to leave a mark with Diamond. Yes, I'll be sharing the light with her, but we have our own spotlight. We're on the big spotlight, which is the field."
Accustomed to being in the spotlight as a twirler, Ms. McGhee said she feels excitement rather than pressure regarding her new role. Because she is a fast learner and her own toughest critic, she noted that the key for a good performance is to simply be yourself.
"I have always received praise for my poise and being comfortable on the field," she said.
While the band will consume much of her focus in coming weeks, Ms. McGhee recognizes that her studies also will demand attention. She said she plans to attend graduate school after earning her degree. Ultimately, she wants to become a counselor and life coach for women of color.
Meanwhile, the stage is set for women to follow in her footsteps with the Ambassadors of Sound.
"It is 2019 and women everywhere are on the rise," she said. "Everything in the world has always been male dominated, so I think that it is time for women to step out from the shadows and show that we can dominate as well."