Henrico police chief to retire
George Copeland Jr. | 6/25/2020, 6 p.m.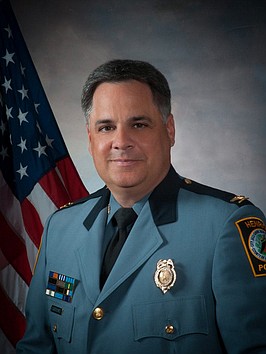 Another area police chief is stepping down as protests continue against police violence and racial injustice.
Henrico Police Chief Humberto I. "Hum" Cardounel Jr. announced Monday that he is retiring effective Sept. 1.
A 31-year veteran of the Henrico County Police Division, Chief Cardounel has led the division and its 863-member staff of officers and unsworn personnel for the past four years. A national search already is underway for his replacement.
"I started this career as a 21-year-old college graduate with little thought as to what the future held for me," Chief Cardounel wrote in an email to the division. "I thought I would do this for just a few years, but it wasn't long after that I realized this was my 'home.' It felt right, Henrico was the right place for me. Nearly 32 years later, Henrico is still my home and still the right place for me."
Chief Cardounel, who joined the division in 1988 as a patrol officer and SWAT team medic, plans to take advantage of Henrico's Voluntary Retirement Incentive Program available during the coronavirus pandemic that gives additional benefits to eligible employees choosing to retire. It is a cost-cutting measure for the county.
In a statement, Henrico County Manager John A. Vithoulkas said the chief "has left an irreplaceable mark on Henrico and its Police Division," while demonstrating "what it means to serve with heart."
"Henrico is stronger, safer and eternally grateful that he se- lected our community as his home," Mr. Vithoulkas said.
The last two years of Chief Cardounel's tenure have not been without controversy. Last September, Henrico police shot and killed Gay Plack, a 57-year-old woman with bipolar disorder, inside her home in a Short Pump subdivision. Her psychiatrist had asked police to go to her home for a welfare check, where they entered through an unlocked back door, kicked open a locked bedroom door and found her in the attached bathroom. According to reports, she emerged swinging an ax and the two officers fired at her.
Her family has been critical of how police handled the situation with someone who was mentally ill, even after Henrico Commonwealth's Attorney Shannon Taylor cleared the officers of any wrongdoing. The case also was reviewed by prosecutors in Hampton and Stafford County.
Concerns recently were raised by Varina District Supervisor Tyrone E. Nelson and county residents about the Henrico Police Division's involvement in the continuing protests in Richmond in which police have fired tear gas, pepper spray and rubber bullets at demonstrators.
Rev. Nelson wrote in a social media post Monday that he had met with Chief Cardounel to discuss the concerns and has assurances that Henrico officers had not assisted Richmond Police with the protests for about a week "and does not presently have any plans to participate."
"I will continue to keep a watchful eye and will continue to seek answers on your behalf," Rev. Nelson posted on his public Twitter account.
When his social media followers questioned Richmond's use of a Henrico "spy plane" during recent protests and its cost to county taxpayers, Rev. Nelson responded that the plane is shared by several jurisdictions in the region that each contribute $127,334 during the current fiscal year under the regional agreement.