Grand Illumination, Love Lights to ignite holiday spirit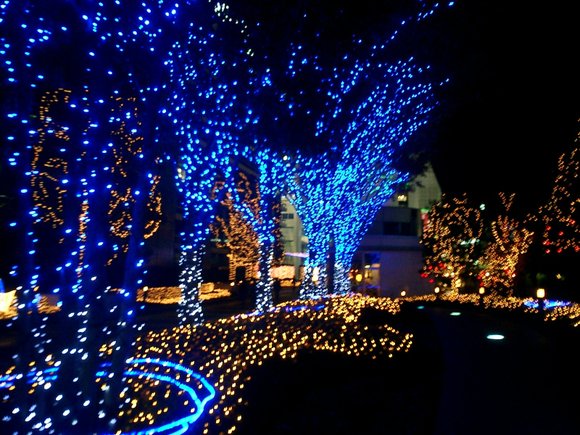 Light up the city!
Santa is coming to town!
The holiday spirit will envelop Richmond this weekend with two big events — the joint Grand Illumination and Love Lights skyline lighting Friday night, Dec. 5, and the Dominion Christmas Parade on Saturday, Dec. 6.
These popular holiday events are expected to attract more than 100,000 people to Richmond.
The Grand Illumination will mark its 30th holiday season of turning on a blazing display of 100 trees and reindeer on the lawn of the James Center at 10th and Cary streets.
The lighting ceremony, set to take place at 6 p.m. at the office center, will kick off three hours of family activities and entertainment in the Shockoe Slip and Shockoe Bottom sections of Downtown.
The ceremony also will be accompanied by the lighting of at least 15 private and public high-rise buildings visible in Richmond's skyline — a seasonal light show called Love Lights.
Love Lights is an initiative of the Free Press to brighten the city during the winter. The newspaper's late founder and publisher, Raymond H. Boone, initiated the idea in 2004 to connect with Richmond's "Easy to Love" and the state's "Virginia is for Lovers" slogans. Some buildings stay lit through Valentine's Day.
Also on tap for Friday evening are horse-drawn carriage rides from the fountain at 13th and Cary streets, canal boat rides from the Turning Basin on 14th Street, and yuletide activities a few blocks away at Main Street Station and the 17th Street Farmers' Market. There also will be the lighting of the state Christmas tree and an open house at the Governor's Mansion on Capitol Square.
The festivities will continue Saturday morning with the big, two-mile parade down Broad Street to officially escort Santa into the city.
The 31st annual parade will begin around 10:15 a.m. at the Science Museum of Virginia, 2500 W. Broad St., and move east along Broad Street to 7th Street to disband near the Coliseum.
This year's grand marshal: Actor Chad L. Coleman, a Richmond native who stars in the AMC network's popular show, "The Walking Dead." He also has appeared in such TV hits as "The Wire" and "It's Always Sunny in Philadelphia." His credits also include playing O.J. Simpson in the 2002 TV movie "Monday Night Mayhem."
Parade highlights include at least six high school and college marching bands, huge cartoon-character balloons, festive floats, Masonic groups, dance troupes from near and far, majorettes and more. In all, the parade will feature 88 different units this year, according to parade organizers.
Sampling of other upcoming holiday activities:
• GardenFest Illumination featuring 500,000 lights, Lewis Ginter Botantical Garden, 1800 Lakeside Ave., 5 to 10 p.m. nightly. Cost: $5 to $12 per person.
• Christmas Concert and Festival in support of World AIDS Day, Cathedral of the Sacred Heart, 7 p.m. Saturday, Dec. 6, Laurel Street and Floyd Avenue. Cost: No charge.
• Old-Fashioned Christmas, Maymont, includes carriage rides, mansion tours, entertainment, noon to 5 p.m. Sunday, Dec. 7, at the park, 1700 Hampton St. in the West End. Cost: $4 to $5 per person for tours and $4 to $5 per person for carriage rides.
• "Home for the Holidays," city-sponsored holiday variety show, Martin Luther King Jr. Middle School, 1000 Mosby St., 4 p.m. Sunday, Dec. 7. Cost: No charge.
• Holiday Pops Concert, James Center, 1051 E. Cary St., 7 p.m. Monday, Dec. 8, featuring the community-based, nonprofit Richmond Philharmonic Orchestra. Cost: No charge.