Christmas spirit shines light on special needs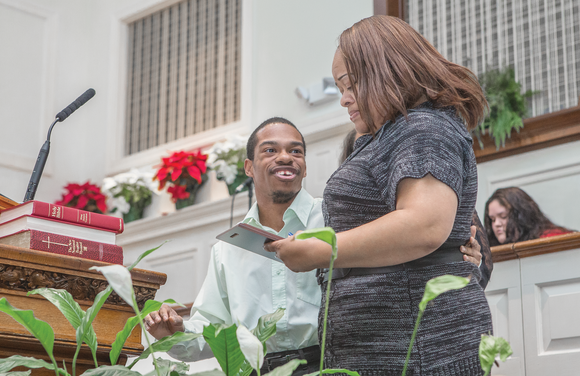 "Look around this room and see how amazing and awesome God is," she said.
"God sends us special people so we can remember his love," she added.
A diverse array of performers brought the audience to its feet time and time again with rousing applause.
Among the highlights:
• Teen middle school honor roll student Sydnee Baker, who has the genetic disorder Neurofibromatosis, attention deficit hyperactivity disorder and is blind in her left eye, mimed to the gospel song, "But God."
• Jamaar Sheppherd, a wheelchair-bound 26-year-old with cerebral palsy, wowed the audience as he enthusiastically sang, "I Believe I Can Fly," with his arms raised.
• Grace Bourne, a middle-aged woman with an intellectual disability, shouted, "This is the best Christmas present I've ever had!" as she took her seat at the organ to play, "Oh Holy Night."
• Elegantly dressed Brittany Sweet of Maryland, a 21-year-old with Down syndrome, then charmed the audience with "I Believe" by Fantasia Barrino.
• Dapperly attired Kyle Jones, a 19-year -old with cerebral palsy and a first-year student majoring in business administration at Virginia Commonwealth University, was then presented a "God Chose Me" award.
"It just keeps getting better and better," Ms. Lucas and Ms. Mines alternately told audience members as the stirring performances continued.
Members of the Miracles in Motion dance troupe of children and adults with special needs, described by Ms. Lucas as "the hottest ticket in town," dazzled the audience as 22-year-old Jordan Hagan danced to the "Zoot Suit Riot" and 6-year-old Taylor Carpenter shimmied to "Baby, I'm a Star."
Nine other dancers in the troupe with various disabilities then energetically performed to "Let It Snow" and "Let It Go," and founder Kim Moncrief then was presented an award.
Young brothers Kody, Max and Nick Reyna, two with autism and one undiagnosed, joyfully serenaded the audience with "Jesus Loves Me." Later, Khristopher Stewart and Trent Callaham, both with autism, demonstrated their karate skills, with Khristopher breaking three boards using his hands and feet.
Ms. Mines was honored for her advocacy for the disabled and for working to get a bill passed by the General Assembly last year known as "J.P.'s Law," named for her son, that would allow DMV Virginia to add a code to driver's licenses and other IDs to help law enforcement officers be aware of an individual's diagnosis.
Her son, a 12-year-old with autism and ADHD, concluded the service with a performance of "Is This the End" by New Edition.
His 12-year-old sister, Michelle, supported the special needs event throughout by skillfully praise dancing to several songs.
A reception followed.