FCC considers ban on Washington NFL team name
Reuters | 10/7/2014, 6 a.m.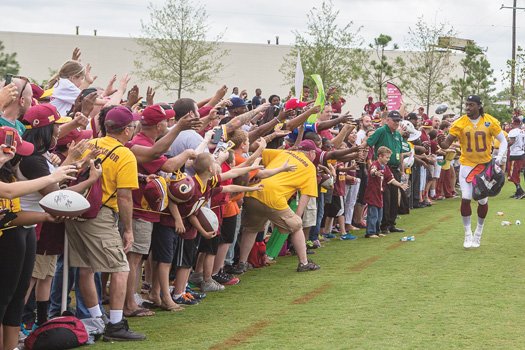 The Federal Communications Commission is considering whether to punish broadcasters for using the moniker of the Washington NFL team, a word many consider a slur to Native Americans, the agency's chairman indicated Tuesday.
The FCC, which enforces broadcast indecency violations, has received a petition from legal activist John Banzhaf III, asking that regulators strip Washington radio station WWXX-FM of its broadcasting license when it comes up for renewal for using the name.
Mr. Banzhaf says the word is racist, derogatory, profane and hateful, making its use "akin to broadcasting obscenity."
"We'll be looking at that petition, we will be dealing with that issue on the merits and we'll be responding accordingly," FCC Chairman Tom Wheeler told reporters.
"There are a lot of names and descriptions that were used over time that are inappropriate today. And I think the name that is attributed to the Washington football club is one of those," Wheeler added.
The FCC could formally deem use of the team name to be indecent, and thus impose a de facto ban on it on over-the-air television and radio.
The Richmond Free Press expunged the name from its news and editorial columns beginning October 2013. Raymond H. Boone Sr., the late editor-publisher of the newspaper that has been nationally recognized for its justice efforts, asserted at the time that the name is insulting, racist and divisive and would give rise to the regeneration of despicable and derogatory names used for other groups.
In June, a panel of the U.S. Patent and Trademark Office canceled the team's trademark registration because it considers its name and logo disparaging. The team has appealed the decision in federal court.
Despite protests, vigorous lobbying and even intervention from President Obama, team owner Daniel Snyder has vowed not to change the name of his National Football League team.
Some TV football analysts, including CBS' Phil Simms and Super Bowl-winning coach Tony Dungy, have said they will no longer use the term.
Half of the U.S. Senate asked the NFL to endorse a name change and the Washington Post editorial board has also said it will stop using the team's name.