His challenge: Teach children our history
Freedom fighter returns to alma mater
9/12/2014, 6 a.m.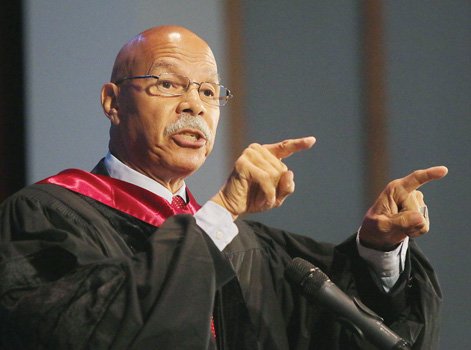 Randall Robinson was 26 years old the last time he stepped onto the Virginia Union University campus.
Forty-seven years later, the longtime freedom fighter returned to his alma mater to urge students and faculty to "dig into" and pass on the rich history of African-Americans to future generations.
The son of a legendary Armstrong High School coach, he titled his address, "Memory," and said, "No people can prosper without a historical memory.
"We have a story. and no one will take care of it but ourselves," the activist attorney told the audience that packed the 700-seat Allix B. James Chapel in Coburn Hall.
Mr. Robinson, 73, who spent much of his life battling apartheid in South Africa and fighting for a democratic Haiti, was the keynote speaker at Monday's kickoff event to a yearlong celebration of Virginia Union University's 150th anniversary.
An author, lawyer and teacher, he called Virginia Union's history "a miracle story" in recalling the start of the thriving, 1,700-student school.
Officially created in 1899 with the merger of two independent Baptist seminaries, VUU traces its roots to 1865 when missionaries from the American Baptist Home Mission Society came to Richmond to set up literacy classes for newly freed slaves.
The society would later organize two schools, Wayland Seminary and the Richmond Theological Institute (later Seminary), which eventually formed VUU.

In an irony of history, the institute held its first classes in 1867 at the site of the former slave auction complex known as Lumpkin's Jail in Shockoe Bottom, staying there for three years before moving to larger quarters.
Mr. Robinson, a resident of the Caribbean island of St. Kitts who teaches law courses at Penn State University, said white America has purposefully failed to teach children black history
"We built the Capitol, The White House and Georgetown University, but we did not exist to them," he said.
Mr. Robinson said the result is many African-Americans have struggled to maintain their cultural identity.
"They have tried to remove our history, our people, culture, religions, languages and wonderful past," Mr. Robinson said.
He told audience members to "discover and dig (into black history), so we can tell our children what happened."
An array of elected officials turned out to hear Mr. Robinson speak. Among them: Congressman Robert C. "Bobby" Scott, Mayor Dwight C. Jones, state Delegates Jennifer L. McClellan, Delores L. McQuinn and Mamye E. BaCote and City Council member Chris A. Hilbert, 3rd District.
Mr. Robinson, the son of coach Maxie Robinson and brother of the late Max Robinson, the first black network news anchor, founded TransAfrica in 1977 to educate and organize African-Americans to end unjust American policies toward Africa and the Caribbean.
He also helped found the Free South Africa Movement and was arrested many times during the 1980s while participating in daily demonstrations against apartheid at the South African Embassy in Washington.
In 2001, he wrote "The Debt: What America Owes to Blacks" in advocating for reparations to redress centuries of race-based discrimination and oppression.