Police chief out amid protests of teen's murder in Chicago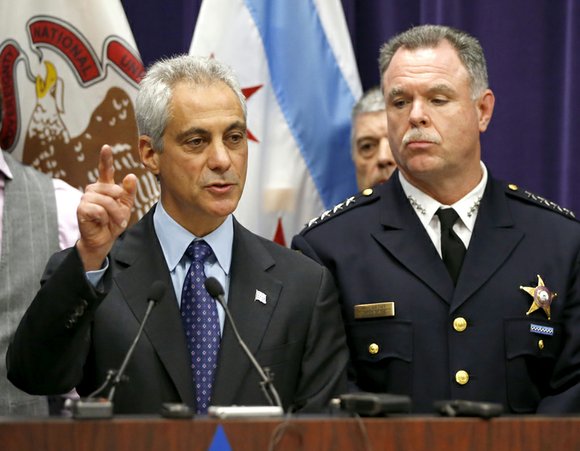 He said that when the officers left, almost two hours later, there was an 86-minute gap in the recording, including the time surrounding the shooting.
Both the police chief and the Cook County state's attorney deny the Burger King video was altered.
The Burger King is yards from where Laquan fell when the first few bullets from Mr. Van Dyke struck him. It took minutes for police to demand the restaurant's password-protected video, Mr. Darshane said.
High-profile killings of black men at the hands of mainly white law enforcement officials in U.S. cities have prompted demonstrations in the last two years, stoking a national debate on race relations and police tactics.
Mr. Van Dyke, 37, was released from jail on Monday after posting a $1.5 million bond.
As a condition of his release set by the judge, Mr. Van Dyke had to surrender his firearm owner ID card and all firearms to law enforcement.
During a protest on Monday, Cornell William Brooks, president of the national NAACP, was among several people arrested during the peaceful demonstration, the organization said.
On Tuesday, Mr. Brooks accused the city of "generational police misconduct and police brutality" and called for more than a change in leadership.
"The question before us now is, 'Will we have a police department that is accountable, that has transparency and operates with integrity and treats the citizens of Chicago with respect and dignity and understands profoundly that black lives matter, all lives matter. And certainly the life of a 17-year-old young man?'" he told CNN.
On Black Friday, demonstrators marched through the streets and disrupted shopping in Chicago's ritziest retail district.
Despite a cold, drizzling rain, hundreds of demonstrators turned out to join the protest on the day that marks the traditional beginning of the holiday shopping season along Michigan Avenue's Magnificent Mile.
Activists chanting, "16 shots! 16 shots!" stopped traffic for blocks for up to an hour. Police officers along the sidewalk formed a barrier of sorts between the protesters and stores and helped shoppers get through the doors.
Among the marchers was 73-year-old Frank Chapman of Chicago, who said the disturbing video confirms what activists have said for years about Chicago police brutality.
"That needs to end. Too many have already died," said Mr. Chapman, whose organization, the Chicago Alliance Against Racism and Political Oppression, is pushing for an elected, civilian police accountability council.