Faith leaders, elected officials call for calm, respect for Muslims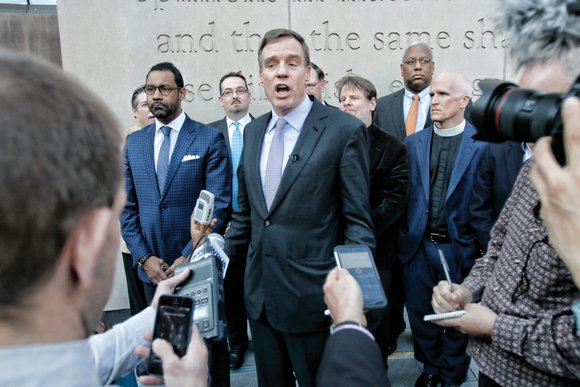 "That really undermines for us what it means to be Americans," he said.
State Sen. A. Donald McEachin of Henrico County, who also is an ordained minister, concurred with that sentiment. "We reject the (hateful) notions of Muslims expressed by Donald Trump and some others. Religion is not, nor ever should it be, a wall that separates people from this land," he said.
The Rev. Roscoe Cooper III, pastor at Sixth Mount Zion Baptist Church in Henrico County and a recently elected member of the Henrico School Board, said the African-American community knows how the Muslim community feels.
"We experience terrorism on a daily basis," he said of ongoing bigotry in the criminal justice system, educational inequity and legislative policies designed to turn back African-American gains.
"As African-Americans and Christians, we stand with our (Muslim) brothers and sisters and we support you," Rev. Cooper said.
Imad Damaj of the Virginia Muslim Coalition for Public Affairs said Islamic leaders have repeatedly denounced acts of terrorism and will continue to do so.
"Regardless of their motives and who they claim they are, they have nothing to do with us," he said.
Another group of leaders from 15 faith and faith-based organizations is holding a news conference 3:30 p.m. Thursday, Dec. 17, at the Islamic Center of Virginia in Bon Air.
That news conference, called "Standing Together," also is to express unity "in response to Islamophobia, xenophobia and divisive rhetoric," according to organizers.
The public display of support locally is designed to counter a wave of anti-Islamic rhetoric and hate incidents that are spreading across the nation. Those include a fire set outside a Southern California mosque last Friday. Police have arrested a 23-year-old man suspected of setting the blaze at the Islamic Society of the Coachella Valley, authorities said last Saturday.
Separately, a pig's head was thrown from a moving vehicle at a Philadelphia mosque Dec. 7. No arrests have been made in the incident. The incident was captured on video and went viral.
President Obama, Democratic presidential front-runner Hillary Clinton and other leaders have alleged the hate incidents are sparked by the inflammatory rhetoric used by public figures such as Mr. Trump, who on Dec. 6 called for a "total and complete shutdown of Muslims entering the United States."
In a Dec. 6 address to the nation from the Oval Office, President Obama urged Americans not to "turn against one another" out of fear.
"It is the responsibility of all Americans of every faith to reject discrimination, to reject religious tests of who we admit into the country, and to reject proposals that Muslim-Americans should somehow be treated differently, because when we travel down that road, we lose," he added.