New VSU president shares vision, receives support at official introduction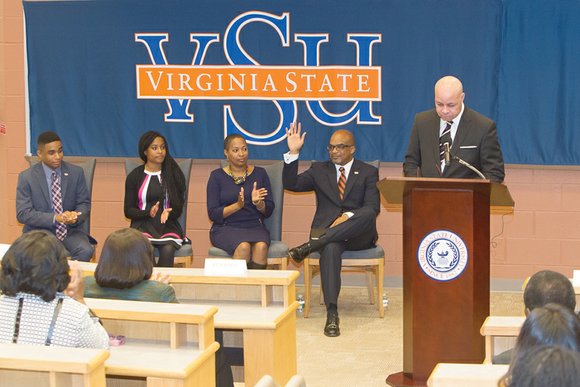 "I'm very excited about the new president," said Joyce Edwards, associate professor and chair of the Department of Sociology, Social Work and Criminal Justice. "I believe he will provide stability that the university needs."
Others were equally enthusiastic, including Dr. Berkita S. Bradford of the VSU Department of Hospitality Management who said, "I believe he will serve us well."
Samuel Kelly, a junior, said he enjoyed hearing, what Dr. Abdullah had to say, but is more interested "in seeing what he actually does. That's more important."
Dr. Abdullah would probably agree. "I look forward to this new year and to this new horizon," Dr. Abdullah said after showering thanks on those who enabled him to become president.
A graduate of Howard University, he earned his master's and doctoral degrees at Northwestern University. His past experience includes 15 years at Florida A&M University, also a land grant institution, where he rose to dean of the College of Engineering Sciences, Technology and Agriculture. He went on to serve as provost of Florida Memorial University before taking the same post at Bethune-Cookman in 2013.
At VSU, he was accompanied by his wife, Dr. Ahkinyala Cobb-Abdullah, and their two children, son Mikaili, 17, and daughter Sefiyetu, 16, both high school seniors. Dr. Cobb-Abdullah and the college-bound children plan to join Dr. Abdullah in Virginia after graduation, he said.
The contract the new president signed did not include any language ensuring Dr. Cobb-Abdullah a place on the VSU faculty.
While she is planning to join her husband in Virginia, she has her own academic career. She is an assistant professor of integrated environmental science at Bethune-Cookman and has a background in toxicology and bioengineering.
Without making any commitments, Mr. Black said VSU would make arrangements involving Dr. Cobb-Abdullah that "are typical of what other universities do in this situation."