Personality: Clarence M. Dunnaville Jr.
Spotlight on Hill-Tucker Public Service Award winner
2/26/2015, 6:27 a.m.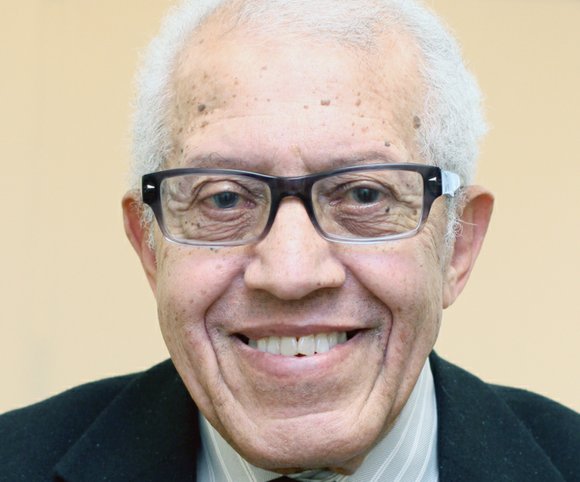 Mr. Dunnaville earned his law degree from St. John's University School of Law in 1957.
He then set out to make a difference wherever he could. He worked as an assistant U.S. attorney in New York and in 1965, he became the first black attorney for AT&T, working in the areas of litigation, labor law, antitrust, commercial and international law.
He took a leave of absence from AT&T in 1967 to volunteer as an attorney with the Lawyers' Committee for Civil Rights Under Law in Mississippi.
"I just wanted to try to help to enforce the Voting Rights Act," Mr. Dunnaville says. "Mississippi and other states refused to comply. We went down there so black people could vote."
In one particularly harrowing incident, he was assaulted and chased out of Marks, Miss., at gunpoint by a Mississippi law enforcement official while assisting a citizen who was being deprived of his civil rights.
Returning to AT&T and later rising to the position of senior attorney, Mr. Dunnaville co-founded the Council of Concerned Black Executives and the Association for Integration in Management. The organizations worked with businesses to improve corporate opportunities for African-Americans during the 1970s and 1980s.
Mr. Dunnaville also served as executive director of the New York Interracial Council for Business Opportunity, which collaborated with banks, government agencies and community leaders to develop business opportunities for people of color. In the early 1980s, he co-founded Workshops in Business Opportunities to assist minority entrepreneurs gain business skills.
In 1990, he joined the Hill, Tucker & Marsh firm.
"Mr. Hill asked me to join the firm," Mr. Dunnaville recalls. "I was very familiar with the work of Mr. Hill. He's from Roanoke, my hometown. I always thought highly of him."
He served as a principal attorney in a number of important civil rights cases, including the national class action suit brought by black farmers that eventually was settled.
As a founding member of the Oliver White Hill Foundation in 1998, Mr. Dunnaville led a project to purchase and restore Mr. Hill's boyhood home in Roanoke.
Mr. Dunnaville continues to advocate for the voiceless. Among his latest undertakings: He's working on projects to introduce restorative justice into the Virginia juvenile justice system, and to improve the bar's pro bono service to the poor. He's also assisting a neighbor in a project to provide books for children who utilize Crossover Health Ministries in Richmond.
He's also a life member of the NAACP.
Here's a look at this week's Personality, Clarence M. Dunnaville Jr.:
Date and place of birth: Aug. 9 in Roanoke.
Education: Bachelor's degree in political science and history from Morgan State University, and a law degree from St. John's University School of Law. Family: Adult sons, Chris, Peter and Andrew.
Community involvement: Life member of the NAACP and member of Alpha Beta Boule, Omega Psi Phi Fraternity and Gillfield Baptist Church in Petersburg.
Honors won: Many, including the Lewis F. Powell Jr. Pro Bono Award from the Virginia State Bar, the Harold Marsh Award from the Old Dominion Bar Association and the first recipient of the Clarence Dunnaville Jr. Award from the Virginia State Bar Diversity Conference.