Getting praise, worship on at Gospel Music Fest
Joey Matthews | 7/17/2015, 4:29 a.m. | Updated on 7/17/2015, 4:29 a.m.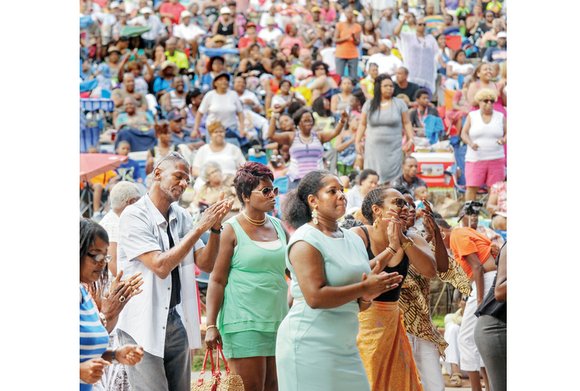 At age 80, gospel music icon Dorothy Norwood still can spiritually move an audience.
Known as "Gospel's greatest storyteller," she demonstrated her star power again Sunday evening as the headliner before an overflow audience at Dogwood Dell at the 6th Annual Gospel Music Fest.
She and about a dozen other gospel performers, including Richmond legend Larry Bland and the Volunteer Choir and his quartet, Promise, repeatedly brought the audience to its feet in praise and worship on a resplendent summer evening.
Radio personality Sheilah Belle of Praise 104.7 FM organized and emceed the event.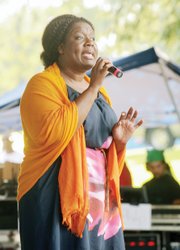 "I need some people who've been through some real stuff, some survivors, some overcomers!" Ms. Norwood said to the applauding audience. "I'm going to have church in here in a few minutes."
She began her 20-minute set wearing a big smile. "I'm going to sing a song that got me a big ol' check," Ms. Norwood said.
She then delivered a stirring rendition of the classic hymn she wrote, "Victory is Mine," that was featured in the 2011 Academy Award-winning movie "The Help."
Ms. Norwood, who has released more than 50 albums and won numerous awards, then testified about being misdiagnosed with cancer in 2014. She then belted out her hit, "Oh Jesus," backed by a choir comprised of about a dozen young people.
She saved her best for last, transitioning into the classic "Down Old School Boulevard," comprised of a medley of hits, including "Shine on Me," "Amazing Grace" and "I Will Trust in the Lord."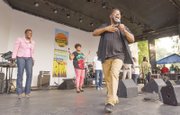 At one point, several people assisted Ms. Norwood as she walked from the stage, down stairs and into the audience as she sang. She was surrounded by about 50 people, who were using cell phones to photograph and record her.
After her performance, Mr. Bland, dapperly attired in a black tuxedo, took a seat at his keyboard after being accompanied onstage by 31 members of the Volunteer Choir. He dedicated the performance to Maggie Ingram, the Richmond gospel music icon who died June 23, and four deceased members of the Volunteer Choir that Mr. Bland has directed for more than four decades.
Mr. Bland and the choir wowed the audience with songs such as "Total Praise," "The Last Mile of the Way" and "I've Got to Keep Moving."
Promise joined them onstage to perform "Lord, You Surely Been Good to Me," "I'll Walk With Him Always" and "Nobody Greater."
A show highlight came when Ms. Ingram's daughter, the Rev. Almeta Ingram-Miller, joined the choir to perform "My Help Cometh from the Lord."
Others who performed at the event included Minister Earl Bynum, The Virginia Aires and Petula Beckles.