Woman power
Female candidates claim victory in Tuesday's primary elections
Jeremy M. Lazarus | 6/12/2015, 12:17 p.m. | Updated on 6/12/2015, 12:17 p.m.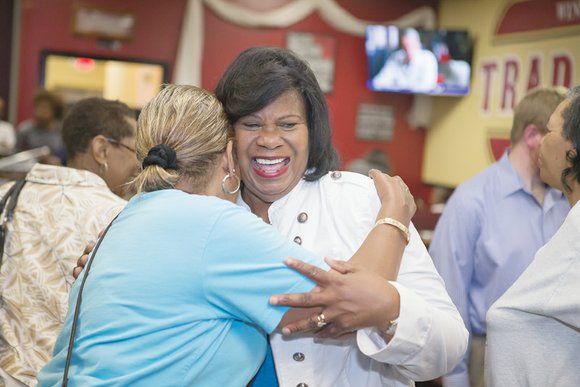 Sen. Dance captured 62 percent of the vote and carried all six localities in the district. She will face former Delegate Joseph D. "Joe" Morrissey, who is running as an independent in the November general election.
Delegate Preston, who gave up his seat to challenge Sen. Dance, had the backing of former Sen. Henry L. Marsh III, who had represented the district for nearly 24 years before stepping down last summer to take a seat on the state Alcoholic Beverage Control Board.
Ms. Chase, a businesswoman and Tea Party favorite, pulled off the biggest primary upset in overcoming two male Republican rivals, including the man who had held the 11th Senate District seat for 21 years, Sen. Steve H. Martin.
Ms. Chase helped orchestrate Congressman Dave Brat's primary upset last year of former House Majority Leader Eric Cantor. On Tuesday, she won 40 percent of the vote to upend Sen. Martin, a General Assembly powerhouse who held a substantial lead in money and GOP establishment support, and Barry F. Moore Jr., an auto dealership executive.
Ms. Chase is likely to face Democrat Wayne E. Powell, a lawyer who previously ran against Eric Cantor, in the general election. Mr. Powell filed to run Tuesday, but given the makeup of the district, is considered a long shot to upset a Republican nominee.
Dr. Dunnavant, another anti-abortion, anti-Obamacare conservative like Ms. Chase, won 38 percent of the vote to whip three men, including former Delegate W.R. "Bill" Janis, in seeking to fill the 12th Senate District seat being vacated by aging veteran Sen. Walter A. Stosch, who endorsed her.
Dr. Dunnavant, an OB-GYN, is the favorite to gain the seat in the majority Republican district, but still will have to overcome a challenge from another woman, Democrat and registered nurse Deborah Repp, in the general election.
Mr. Gecker had the endorsement of Gov. Terry McAuliffe and most other elected Democrats at the state and local level for his bid for the Democratic nomination in the 10th Senate District. He now will gear up to face the Republican nominee, Richmond School Board member and lawyer Glen H. Sturtevant Jr., Libertarian candidate Carl R. Loser and independent Marleen K. Durfee, a former Chesterfield County supervisor.
Meanwhile, the Virginia Legislative Black Caucus is going to lose one member, first-term Delegate Michael T. Futrell, D-Prince William. He lost his primary bid to move up to the Senate and will be leaving the House at the end of his term in early January.
Delegate Futrell ran a distant third in the Democratic primary in the 29th Senate District. Jeremy S. McPike won the primary and will face Manassas Mayor Harry J. Parrish II, a Republican, in the contest to replace retiring Sen. Charles J. Colgan.