Home sweet home?
Trailer park under pressure for repairs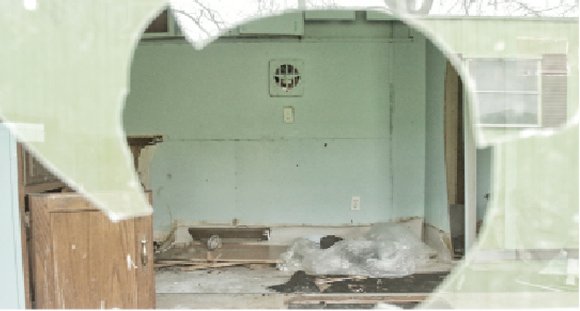 "I don't have that kind of money," Mr. Soffee said.
He said he has requested an extension to come up with the money, but is not sure whether the city will disconnect water services or not.
"I'm such a nervous wreck. I can't sleep," Mr. Soffee said. "My stomach is in knots. I try to tell people we're doing the best we can."
Meanwhile, a 16-member group of churches, nonprofit organizations and other service providers known as the Mobile Home Park Coalition, which formed last spring to aid residents at Rudd's Trailer Park, is working to provide financial assistance to displaced residents, according to Phil Storey, an attorney with the Legal Aid Justice Center.
He said the coalition, without investi- gating Rudd's assessment value or other financial details related to the park, offered Mr. Soffee $200,000 to purchase the park, but that Mr. Soffee declined their offer in the fall.
"The property is assessed at $2.2 mil- lion," Mr. Soffee told the Free Press. "I told them they might as well be wearing masks because they were trying to rob me."
According to city records, the 9.2-acre site is assessed at $2.46 million, with the land valued at $2.28 million and the 117 mobile homes and a small house collectively valued at $180,000.
Mr. Storey said the coalition also has separately offered to provide $300,000 for "immediate repairs" at Rudd's, contingent on the city agreeing not to condemn any more mobile homes at Rudd's. The offer also would hinge on Mr. Soffee providing residents a three-year lease fixed at the current rental rate that also gives residents the right to terminate their lease with 30 days notice.
Mr. Soffee also declined that offer. He said he has not asked the coalition for assistance, and he believes they have undermined some of the Rudd's residents' confidence in him.
He said he has paid to bring nearly 100 electrical pedestals outside of mobile homes up to code since the inspections began last year and is working to keep the park functioning with his limited resources.
He said the park was "thriving" and "children were always outside playing" before the city inspections began. He wistfully recalls residents marching through the trailer park in December 2013 hold- ing candles and thanking God they had a place to live.
"Now, this place looks like something out of a horror movie," Mr. Soffee said. "People have broken into the empty trailers and stolen everything out of them that they could. Broken glass and other debris are everywhere."
Mr. Storey said the coalition hopes to secure funding to help displaced Rudd's residents.
"We're going to do all we can to help those residents," Mr. Storey vowed.
He said the city inspections at Mobile Towne this month "put scores more families at risk of displacement."
The city issuing more safety violations at another mobile home park while Rudd's residents continue to struggle "is very unhelpful," he added.