Livingstone wins CIAA men's championship
Fred Jeter | 3/5/2015, 4:20 a.m.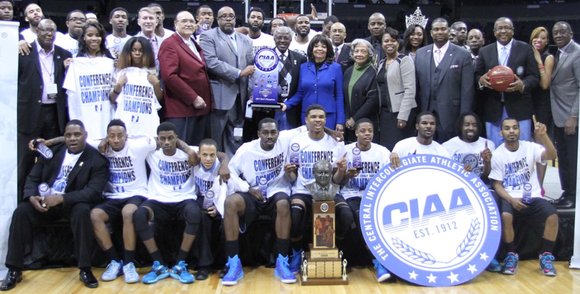 First-year Coach Tony Sheals now must replace standout guards Avery Jirmnson and D'Andre Bullard.
VUU finished 9-18 in a season in which it lost 11 straight games from Nov. 30 to Jan. 21. A missing Panther in Charlotte was Robert Valentine, a standout freshman from Armstrong High School.
Valentine was benched at the "coach's discretion," according to VUU sports publicist Jim Junot.
Stability hasn't been a recent strength for VUU, either in player personnel or coaching. VUU played this season with just two holdovers from last season.
Coach Sheals is the Panthers' third coach since 2008. By comparison, from 1951 to 2008, there were just three coaches — Tom Harris, Robert Moore and Dave Robbins.
Family tradition: While it was a frustrating year for VUU, it has been a banner season for the son of a former Panther.
A.J. English III, son of ex-VUU great A.J. English Jr., is averaging 20 points for the 24-6 Iona College Gaels. The 6-foot-4 junior is a strong Metro Atlantic Player of the Year candidate.
The elder English was the Division II Player of the Year for VUU in 1990 when he led the NCAA in scoring.
Next: The Atlantic Region NCAA pairings will be announced March 8. A likely destination for a CIAA team, or possibly teams, will be at the Atlantic Region's top-ranked West Liberty University in West Virginia. There's a chance Bowie State University could earn an at-large invitation.