Warriors capture second state crown
Fred Jeter | 3/19/2015, 6:42 p.m.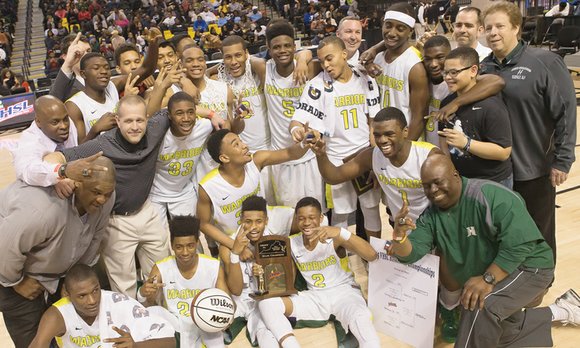 Henrico High School has steered into basketball's fast lane and shows no signs of slowing down any time soon.
Coach Vance Harmon's heavy-on-the-pedal Warriors sped to their second state title in three years March 14, blitzing Norview High School of Norfolk, 78-64, for the Virginia High School League's 5A crown.
Henrico High has reached three straight state finals and boasts arguably the commonwealth's top college prospect in junior Monte Buckingham.
With the one-sided win over Norview, Henrico finished the season 28-1.
In the final held at Virginia Commonwealth University's Siegel Center, the pressing, quick-striking Warriors were led by dunking dynamo senior Walter Williams, with 24 points and, as usual, by the brilliant Buckingham, with 20 points.
Junior guard Gus Rowland, a transfer from Cosby High School in Chesterfield County, added 13 points.
It was all Warriors from the get-go. Henrico High led 25-12 after one quarter and 39-20 at halftime.
Averaging 84 points per game, the Warriors have lost this season only to Colonial Forge High School of Stafford, 68-67, on Dec. 29. There were only a handful of games in which Henrico High won by less than double digits.  
A key hurdle en route to the crown was outlasting Chesterfield's L.C. Bird High School, 111-99, in overtime in the regional semifinal.
In rolling past Freedom High School of Woodbridge 96-70 in the state semifinals, Buckingham compiled one of the best lines of statistics in state tournament history.
The all-round stalwart had 24 points, 14 rebounds, 10 assists and seven steals in just 23 minutes of floor time.
"I really don't think of myself as playing any one particular position," said Buckingham. "I just do whatever it takes to win."
Asked about recruiting, Buckingham listed VCU, University of Richmond and East Carolina University as three suitors near the top of his list.
The 6-foot-4, 215-pounder with the signature white head band has 1,400 career points in three seasons and should pass Ken Foster next season as the Warriors' all-time scorer.
Foster, from the Henrico High Class of 1967, scored 1,687 points.
Also ahead of Buckingham is Ricky Adams, Class of 1978, who had 1,551 points.
The Warriors are oozing with momentum.
In fact, Coach Harmon turned down at least one college head coaching position during the offseason to stay at Henrico High.
The return of Buckingham, Rowland and other promising underclassmen offers Henrico High a bona fide run at another state title next year.
The Warriors are arguably the hottest program in Virginia. The Azalea Avenue school is 108-13 over four years.
Henrico won the State Group AAA title in 2013 and lost in the 5A final last year. Among schools in the top enrollment classifications, the Warriors are the first to reach three straight finals since Newport News High School in 1957, 1958 and 1959.
No school went to three straight finals in Group AAA from 1971 to 2013. Top enrollment schools were called 1A from 1915 to 1970. 
Newport News High also was the last team in top classifications to win three straight state titles. Newport News closed as a high school in 1971 and is now used for Navy barracks.
The Warriors drew an assist earlier this season from Virginia Randolph Career and Technical Education Center in Glen Allen.
While Henrico High's gym was unplayable due to a power outage, the Warriors practiced at Virginia Randolph, which served during segregation as Henrico County's school for African-American students until the late 1960s.