Justice Dept. opens investigation into Gray's death; officers charged
Free Press wire reports | 5/7/2015, 10:23 a.m. | Updated on 5/8/2015, 9:34 a.m.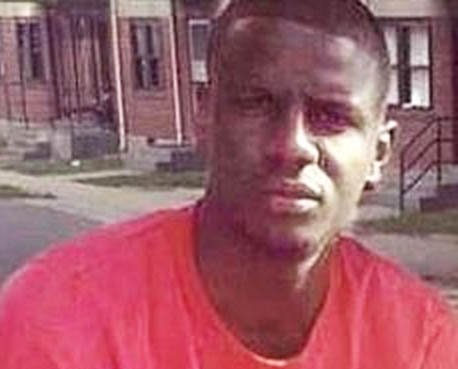 Whoops, cheers and shouts of "Justice!" erupted on the steps of the War Memorial Building, and in the streets of Baltimore.
Ms. Mosby also said what police described as an illegal switchblade clipped inside Mr. Gray's pants pocket was actually a legal knife, and provided no justification for his arrest.
Her announcement of the charges came one day after her office received results of a police internal investigation and Mr. Gray's autopsy report.
"Mr. Gray suffered a severe and critical neck injury as a result of being handcuffed, shackled by his feet and unrestrained inside of the BPD wagon," she said.
The stiffest charge — second-degree murder — was filed against officer Caesar F. Goodson Jr., the driver of the police van. He also was charged with three counts of manslaughter and assault.
Lt. Brian W. Rice was charged with manslaughter, assault and false imprisonment. Sgt. Alicia D. White and Officer William G. Porter were charged with manslaughter and assault. Officers Garrett E. Miller and Edward M. Nero and were charged with assault and false imprisonment
All were charged with misconduct in office. They are free on bond while awaiting trial.
Mr. Goodson, 45, who has been on the force since 1999, is African-American, along with Sgt. White and Officer Porter. Online court records list the race of the other three in a category that includes Caucasians and people of Arab descent.
Officer Goodson faces up to 30 years in prison on the murder charge alone.
Fraternal Order of Police local president Gene Ryan told Ms. Mosby in a letter before the charges were announced that none of the six officers were responsible for Mr. Gray's death.
Ms. Lynch said the Justice Department will examine the best options to improve the Baltimore Police Department in the aftermath of Mr. Gray's death.
"We're going to try to come up with solutions, real solutions for the city of Baltimore to improve this city," she declared. "That's is our goal. That is our commitment."
Ciara Ford, of Baltimore, expressed surprise at the decision to prosecute the officers.
"I'm ecstatic," she said. "I hope this can restore some peace."
"It makes you cry," said her friend, Stephanie Owens of Columbia.