No charges filed against Wisconsin police officer in teen's death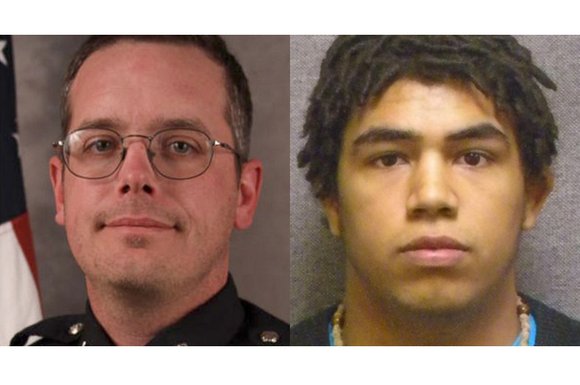 A Wisconsin police officer who fatally shot an unarmed biracial teenager in March, prompting several days of peaceful protests, will not be charged, a prosecutor said Tuesday.
Officer Matt Kenny used justified lethal force in the March 6 shooting of Tony Robinson, 19, Dane County District Attorney Ismael Ozanne said.
Mr. Ozanne said Officer Kenny shot Mr. Robinson after the teen struck him in the head and tried to knock the officer down a staircase.
"I conclude that this tragic and unfortunate death was the result of a lawful use of deadly police force and that no charges should be brought against Officer Kenny," Mr. Ozanne said in a 25-minute statement, during which he repeatedly mopped his face with his handkerchief.
The shooting in Wisconsin's capital city is one of a number of recent officer-involved deaths that have led to increased scrutiny of police use of force in the United States, particularly against young black men.
The prosecutor's announcement came days after the U.S. Justice Department announced a civil rights investigation into the Baltimore Police Department's use of force to determine if there are patterns of discriminatory policing.
After days of peaceful protests, riots and looting broke out mostly in West Baltimore over the April 19 death of Freddie Gray, 25, who died after suffering a severe spinal injury while in police custody. Baltimore's chief prosecutor has charged six police officers in Mr. Gray's death.
Mr. Ozanne said he was sorry for Mr. Robinson's death and shares concerns of many Americans about racial profiling by law enforcement officers. He described himself as biracial like Mr. Robinson, and said he also has worried about being singled out by police because of the color of his skin.
He became Wisconsin's first black district attorney in 2010. In 2014, he ran for attorney general of the state, but finished third among three candidates.
He comes from a family with a deep history in advocating for civil rights.
His mother, Gwen Gillon, was the youngest member of the Student Nonviolent Coordinating Committee during the 1964 Freedom Summer, a campaign to register as many African-Americans as possible in the Deep South to vote.
He recalled his mother's background with pride at Tuesday's press conference.
Mr. Ozanne said his mother "went throughout Mississippi registering people to vote, knowing she could lose her life."
Officer Kenny's attorney said the decision was appropriate, while Mr. Robinson's family members expressed disappointment.
Several hundred demonstrators marched from the gray house where Mr. Robinson was shot to the state Capitol Building after the announcement, singing gospel songs and carrying a street-wide "Black Lives Matter" banner.
At the end, Mr. Robinson's mother, Andrea Irwin, said, "I'm not the type to be defeated. I'm just beginning to fight."
Mr. Ozanne said Officer Kenny was responding to emergency calls reporting that a man was beating up people and dodging traffic in the street. Three 911 calls came from Mr. Robinson's friends saying they were afraid of him because he was on drugs and acting violently and could not be controlled.