No charges filed against Wisconsin police officer in teen's death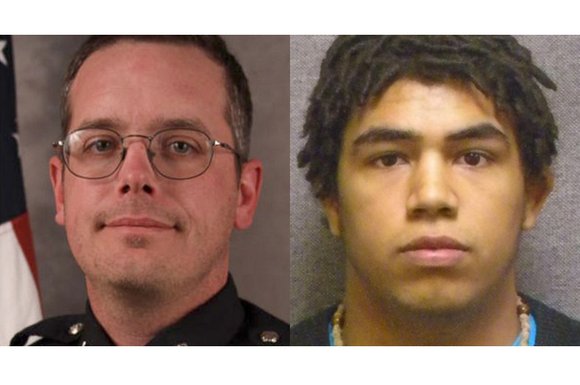 Mr. Ozanne said Officer Kenny went into an apartment building to catch up with Mr. Robinson. The officer went up the stairs where he encountered Mr. Robinson leaving a unit. The teen approached and struck the officer in the head, Mr. Ozanne said.
Reeling and struggling to keep his balance on the steps, Officer Kenny fired after Mr. Robinson advanced on him again, Mr. Ozanne said. Mr. Ozanne said the officer feared he could be knocked out and that Mr. Robinson could get his gun and create more havoc. The officer fired seven times, fatally wounding the teen, Mr. Ozanne said.
An autopsy later determined the teenager had taken mind-altering drugs, including psilocybin mushrooms, marijuana and the psychoactive drug Xanax, Mr. Ozanne said.
There were large, but orderly demonstrations in Madison after Mr. Robinson's shooting. The city of 240,000 people is nearly four-fifths white and 7 percent African-American, according to U.S. Census figures.
Last year, Mr. Robinson pleaded guilty to armed robbery and was put on probation. Sentencing documents show it was his first brush with the law, and he was not the armed person in the group that committed the robbery.
Officer Kenny has been on paid administrative leave during the investigation. In 2007, he was involved in another fatal shooting that also was found to be justified.
After Mr. Ozanne spoke, Mr. Robinson's grandmother, Sharon Irwin, said she had wanted the case to go to trial.
"All I want is due process — for 12 people to decide. Change must come or we are going to go down together," she said.
Attorney Jon Loevy, who represents Mr. Robinson's family, said the announcement left many unanswered questions. Turin Carter, Mr. Robinson's uncle, said the teen was unfairly demonized.
"This was a 19-year-old kid whose life was cut short before he could fully realize his potential," Mr. Carter told a news conference.
Bishop Harold Rayford, president of the African American Council of Churches in Madison, said organizations have "to continue to work with law enforcement so that if this happens again, things will be handled differently."