Stop the violence
Community leaders, residents march in Mosby Court for peace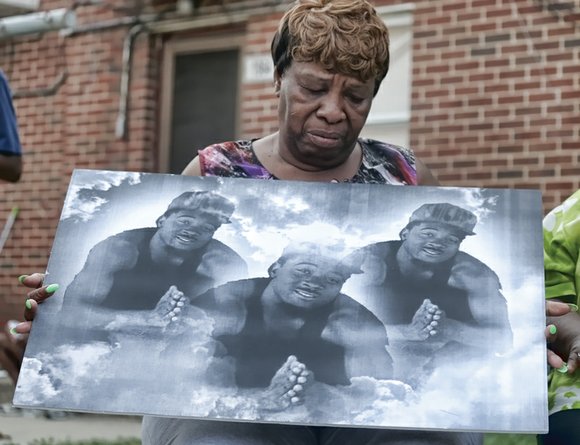 Delegate Delores L. McQuinn of Richmond said she had attended too many stop-the-violence rallies through the years, only to see violence continue.
"Black lives matter not only when they're taken at the hands of a police officer, but they matter when our boys and girls are shooting each other!" she said to loud applause.
City Councilwoman Ellen F. Robertson, whose 6th District encompasses Mosby Court, said, "We are doing this to ourselves. Violence is not necessary and it does not solve the problem because the bitterness is still in our souls and eats us alive. Let us lift ourselves to be the great African kings and queens we are."
Chief Durham implored community members to help the police "get weapons out of the hands of the kids. They are killing each other."
When he asked the audience how many had a loved one who has been shot or killed, about two-thirds of the people raised their hands.
School Board member Shonda Harris-Muhammed, whose 6th District includes Martin Luther King Jr. Middle School, said, "We are in the middle of testing and our children have to come to school dealing with this foolishness. You're going to have determine when enough is enough," she declared.
Earlier in the day, Chief Durham and Mayor Dwight C. Jones spoke from the site where Mr. Adkins was killed.
Chief Durham announced that two men have been arrested and charged with conspiracy to commit murder in Mr. Adkins' death. Milvon L. Witcher, 29, was picked up by the U.S. Marshal's Fugitive Task Force. Domonique R. Walker, 22, was arrested May 8 by Richmond Police detectives. Both men live in the 1300 block of Redd Street. They are to appear in court June 25.
Chief Durham and Mayor Jones also said, as of Tuesday, the number of homicides in Richmond has dropped compared to the same time last year — from 18 to 8, a 56 percent decline.
Violent crimes in the city also are down from 416 to 346, a 17 percent decline.