VUU, VSU clash on Saturday
Panthers eyeing tournament bids
Fred Jeter | 11/6/2015, 8:14 a.m.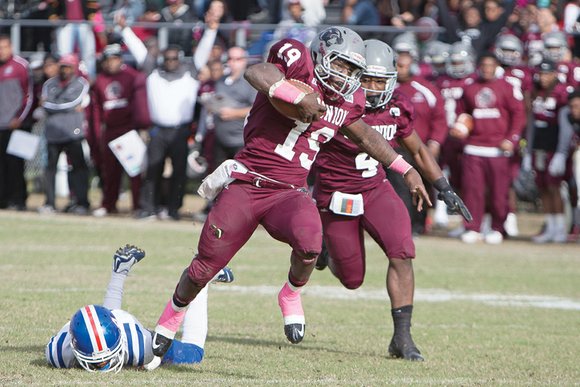 "We're trying to keep tunnel vision. All that matters to us right now is winning the game Saturday at Virginia State," said VUU second-year Coach Mark James.
VSU defeated VUU in the regular season finale a year ago to advance to the CIAA championship and eventually to the NCAA Division II playoffs. VUU played the game with both its first- and second-string quarterbacks hobbled with injuries.
"We've been thinking about that game an entire year," said Coach James.
VSU has changed its head coach since this time a year ago.
Byron Thweatt replaced Latrell Scott as VSU coach last winter after Coach Scott departed for Norfolk State University.
Emerging as an offensive standout for VSU has been Trenton Cannon, a transfer from Shepherd University.
Cannon raced for 106 yards last Saturday at Chowan University and has 1,020 yards rushing for season. He is closing in on the Trojans' all-time single season mark of 1,142 yards set in 2013 by Jordan Anderson.
Challenging Cannon will be a VUU defense that ranks No. 1 in the NCAA Division II against the run and in overall fewest yards allowed.
Overall, VUU is averaging 34 points and 434 yards total offense per game.
VSU averages 25 points and 386 yards per game.
Defensively, VUU allows just 199.3 yards per game while VSU has permitted 327.
In a rivalry dating to 1900, VSU leads VUU 50-45, with nine ties. VSU has won the last two matches against VUU with Coach Scott on the sidelines. Coach James is 0-1 against the Trojans.