State NAACP annual convention to start Oct. 30 in Richmond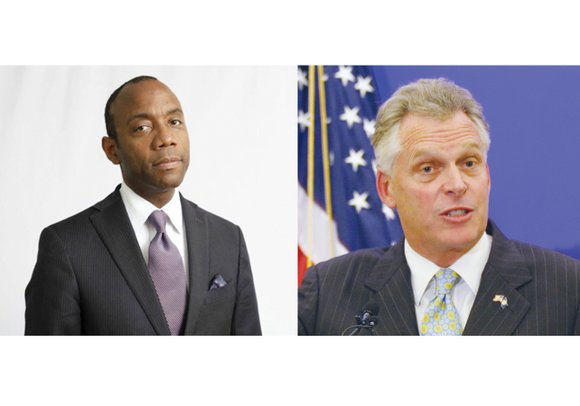 National NAACP President and CEO Cornell W. Brooks, Gov. Terry McAuliffe, and celebrated political commentator Roland S. Martin will address civil rights activists from around Virginia at the 80th Annual Convention of the Virginia State Conference NAACP in Richmond.
The event from Friday, Oct. 30, through Sunday, Nov. 1, will be held at the Omni Richmond Hotel, 100 S. 12th St., in Shockoe Slip.
Gov. McAuliffe is to address issues of state concern at the opening luncheon Friday, with Mr. Brooks to speak on voting and national issues at the Saturday luncheon, according to Jack W. Gravely, state NAACP interim executive director.
Mr. Martin, author, commentator and host of TV One's "News One Now," is expected to speak on presidential politics and the role of the NAACP at the Freedom Fund Banquet on Saturday evening.

Highlights of the convention also will include programs to set the agenda for the state group that dates back to 1935.

That includes a panel discussion 7 p.m. Friday on community policing that will include Richmond Police Chief Alfred Durham, Petersburg Police Chief John Dixon, Henrico County Sheriff Michael Wade and Congressman Robert C. "Bobby" Scott.
In addition, state Secretary of the Commonwealth Levar M. Stoney will lead a Saturday workshop on felons' restoration of voting and other civil rights after release from prison.
The state NAACP also will hold election for officers during the convention.
State President Carmen Taylor of Hampton is facing two challengers in her bid for a second two-year term. She faced criticism over her firing of a former executive director and her unexplained shutdown of the state office during her first year.
The challengers include Linda Thomas of Caroline County, a former state president from 2003 to 2007 who helped reopen the state office last year before being fired by Ms. Taylor. The third candidate is Naomi Hodge-Muse, president of the Martinsville-Henry County Branch NAACP.
State Secretary LaSalle J. McCoy Jr. is facing competition as a result of his recent legal problems, including being arrested on a charge of assaulting an NAACP member. Mr. McCoy, who also serves as president of the Chesterfield Branch NAACP, is being challenged by another Chesterfield branch member, Denisha Potts, for the secretary post.
There also is a three-way race for vice president. The only officer who is not being challenged is Sylvia C. Wood of Richmond, who is running for state treasurer.
For more information or to register for the conference: Mr. Gravely and the state NAACP office, (804) 321-5678 or gravelystatenaacp@aol.com.