Homecoming highlights ...
10/23/2015, 1:26 p.m.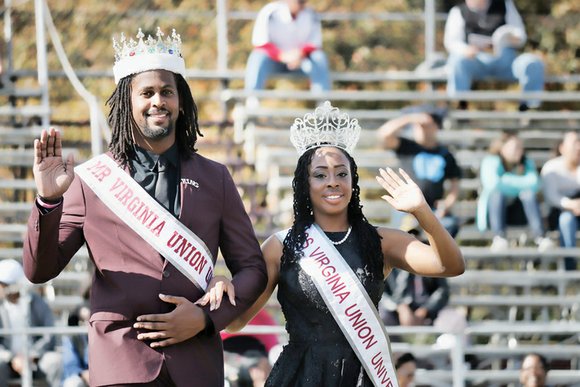 AT VUU
Photos by Sandra Sellars/Richmond Free Press
The high-stepping marching band and the crowning of Mr. Virginia Union, Jason Smart-El, and Miss Virginia Union, Khadijah Harvin, were among the highlights of last weekend's homecoming festivities at Virginia Union University. Thousands of alumni, students, community members and others joined in the festive occasion.
Below from left, Virginia Union President Claude G. Perkins and his wife, Cheryl E. Perkins, applaud the festivities; Joe Green busts a move to the music as he and his friends tailgate; and Terry Parker, president of the 26th District of Prince Hall Masons, grills scrumptious food at the Masons' tent.
AT VUU
AT VSU
Photos by James Haskins/Richmond Free Press
The Virginia State University campus became a hub of activity last weekend as thousands of alumni, students, families and area residents enjoyed the music, food, football, reunions and memories of homecoming.

From left, band members get ready to dazzle the audience during halftime of VSU's football game; alumni Samuel Licorish Jr., left, with his son, Samuel III, a VSU sophomore, show off shirts they designed to sell during the game; Donald Lesley, Mr. Virginia State University, and Lauren Papillion, Miss Virginia State University, strike a pose; and the game and homecoming would not be complete without the high energy of the VSU Woo Woos cheerleaders.