U.S. greets pope
Free Press wire reports | 9/25/2015, 7:40 a.m. | Updated on 9/25/2015, 7:40 a.m.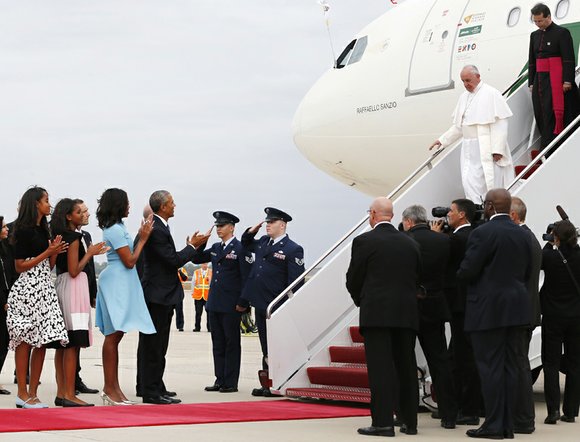 The six-day visit to America gives Pope Francis an opportunity to deliver his message of compassion and simplicity to the world's richest and most powerful country.
During his visit to the United States, he also will give the first speech by any pope to the U.S. Congress on Thursday, an address to the U.N. General Assembly in New York on Friday and an open-air Mass in Philadelphia on Sunday where 1.5 million people are expected.
Pope Francis and President Obama also held private talks Wednesday at the White House, where they discussed refugees. Both men see eye to eye on climate change and defense of the poor but hold different views on abortion rights and gay marriage.
Pope Francis gave his support to traditional marriage, pointing out that he will travel to Philadelphia "to celebrate and support the institutions of marriage and the family."
The leader of the world's 1.2 billion Roman Catholics, Pope Francis sprinkled some stardust in a city that is not unduly impressed with important foreign visitors.
"We love you Pope Francis!" one person shouted as the White House ceremony ended. The crowd of invited guests erupted in cheers. 
Adoring crowds waving white and yellow Vatican flags cheered the pontiff on a parade through Washington streets.
At one point, he had his converted Jeep stop when he saw a baby in the crowd. Pope Francis was handed the 5-month-old son of Salvadoran immigrants, and kissed him on the head.