Reversal of misfortune
Kemba Smith, whose prison sentence was commuted in 2000, dines with President Obama after meeting with White House aides
4/8/2016, 6:12 a.m.
By Reginald Stuart
Special to the Richmond Free Press
WASHINGTON
When U.S. Sen. Barack Obama was making his initial bid to become president of the United States, Richmond native and 1989 Hermitage High School graduate Kemba Smith was among the thousands volunteering in his ambitious history-making campaign.
Ms. Smith worked to get people to register to vote and go to the polls on Election Day, despite the fact her legal status as a felon barred her from voting in the 2008 election.
By 2012, with her voting rights restored, she was among the millions who helped President Obama win re-election to a second term.
A chance to vote for the nation's president in 2008 may have seemed improbable to Ms. Smith in 1994. That's when the former Hampton University student pleaded guilty to violating federal drug laws and was given a 24½-year federal prison sentence with no chance for parole, despite being a first-time, nonviolent offender. The idea of someday meeting a president face-to-face, with chat time and lunch to boot, was even harder to imagine.
Just last week, a dream came true.
Ms. Smith, now a Virginia Union University graduate and sentencing reform advocate, was in the nation's capital as a White House guest participating in a discussion with four former federal prison inmates about life after their sentence commutations. The meeting was with a few top Obama aides, including the president's senior adviser Valerie Jarrett and White House counsel Neil Eggleston. They were working on better understanding what help federal prisoners need after their sentences are commuted, as was the case with Ms. Smith and the other guests.
As the candid discussion ended, a surprise guest entered the small room adjacent to the Oval Office. It was President Obama himself — the nation's president, a top world leader, the man!!!
Ms. Smith and her peers were nearly speechless.
As they sought to grasp the meaning of the moment, President Obama thanked them for sharing their time and thoughts with his aides. He shook each person's hand and got a big hug from Ms. Smith and several others.
"I sure hope I've made you proud," Ms. Smith said the president told them.
Then, adding to their surprise, President Obama invited the small group to lunch so they could talk more. Within a few minutes, Ms. Smith and the cadre of about a half dozen people were in White House vans, their presidential motorcade zipping through busy downtown Washington streets with sirens blaring en route with President Obama to a private lunch at a popular local restaurant.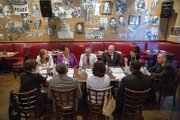 "I still can't believe I'm having lunch with the president," Ms. Smith said in an interview after her White House visit on March 30. "It was just like meeting with family. He was very himself — down to earth," said Ms. Smith.
She had much to say when President Obama asked her to talk about her experience in prison and afterward, when President Bill Clinton commuted her sentence in December 2000 to the six and a half years she had served.