Muslim women, others denounce Trump attacks on Charlottesville family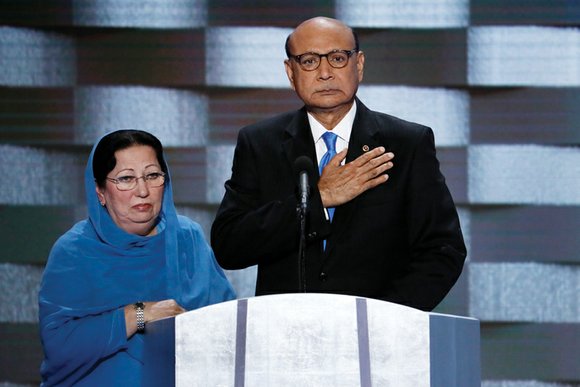 U.S. Muslim leaders have condemned all three statements.
Prominent Muslim American women have joined in the latest effort, as well as the Muslim Public Affairs Council and other groups.
"Donald Trump needs to move his understanding of Islam and Muslims beyond the stereotypes," said Rabiah Ahmed, MPAC media director. "Our campaign is one way for us to showcase who we are and what we stand for."
On Monday, Mr. Trump apparently appealed to Republican members of Congress to support him as his attacks on the Khan family drew sharp rebukes from fellow party members, President Obama, other Democrats and Hillary Clinton's campaign, his Democratic rival for president.
But little help came from the GOP leadership.
U.S. Sen. John McCain, a Republican from Arizona who chairs the Senate Armed Services Committee and ran for president in 2008 on the Republican ticket, issued a lengthy statement sharply criticizing Mr. Trump's comments.
"While our party has bestowed upon him the nomination, it is not accompanied by unfettered license to defame those who are the best among us," said Sen. McCain, a prisoner of war for five years during the Vietnam War.
His counterpart on the House Armed Services Committee, Rep. Mac Thornberry of Texas, echoed Sen. McCain, saying in a statement he was "dismayed at the attacks Khizr and Ghazala Khan have endured after they spoke about their son's service and sacrifice."
Even the head of the 1.7 million-member Veterans of Foreign Wars said Mr. Trump's attack on the Khans went too far.
President Obama told reporters Tuesday that the Republican nominee was "woefully unprepared" to become president.
"He keeps on proving it," President Obama said at a news conference welcoming Singapore's prime minister. "The notion that he would attack a Gold Star family that had made such extraordinary sacrifices on behalf of our country, the fact that he doesn't appear to have basic knowledge around critical issues in Europe, the Middle East, in Asia, means that he's woefully unprepared to do this job."
The president also denounced Republican leaders who continue to support the controversial real estate magnate, despite their repeated assurances that Mr. Trump's rhetoric is often inconsistent with the party's values.
"If you are repeatedly having to say, in very strong terms, that what he has said is unacceptable, why are you still endorsing him?" President Obama asked. "What does it say about your party that this is your standard bearer?"