Police Chief Alfred Durham responds: 'We are the community and the community is us'
8/5/2016, 7:14 a.m.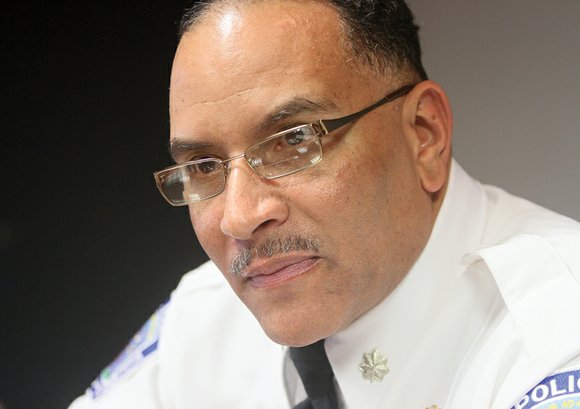 What are you, the chief of police, doing to publicly repudiate/renounce the actions of cops such as those on video from Louisiana and Minnesota, and to say that will not be tolerated in Richmond?
As I have stated previously, when it comes to any police-involved shooting, as the chief of the Richmond Police Department, it would not be appropriate for me to comment on or second-guess the specific actions of officers in another department. I would hope for the same consideration for my department.
As a member of the community, a father and someone who has experienced the pain of losing a loved one to the violent actions of another, I can say with full understanding that the loss of life is a profound tragedy. And as chief of police and a law enforcement professional for more than 29 years, I hold my officers to a high standard of professional and courteous conduct when interacting with any member of the public.
What specific training are officers receiving to deal with the increasing number of people in the community who suffer from mental illnesses, including Alzheimer's disease, and who may become violent or display aberrant behavior?
We work tirelessly to train and equip our officers to handle everything from the routine to the most difficult and challenging scenarios. We have adapted our existing training and added new training to keep up with the requirements of contemporary policing and the expectations of the community.
We provide our officers with Crisis Intervention Training, training in appropriate use of force, fair and impartial policing and other courses designed to build police competencies and reduce the risk of having to use deadly force or having a deadly encounter.

But despite all of those efforts, we still understand that risk can never be completely removed.
What can we in the community do, and what can the police do, to ensure that interactions don't get out of hand? Everyone is on edge when they are stopped by the police. All of the events around the country have heightened the fear of being stopped. What can be done to reverse that?
I don't think there is a way to completely remove the tension from those types of interactions. During the normal course of fulfilling their duties, there are times when police will have to stop individuals, whether it is for a moving violation, canvassing for a suspect in a recent crime or merely to share information. Those moments can sometimes be tense and disconcerting for the people being stopped. No one wants to be stopped by police to be issued a traffic ticket or be cited for any other type of violation.
The key to ensuring those routine interactions don't get out of hand is communication and accountability. If you are stopped by police, please follow instructions, communicate with the officer and feel free to ask questions.
I expect my officers to be courteous and professional during all interactions. And when all parties — both police and the public — are respectful of one another, the interaction will always go smoothly.