Coretta Scott King memoir slated for release Jan. 17
12/2/2016, 6:13 p.m.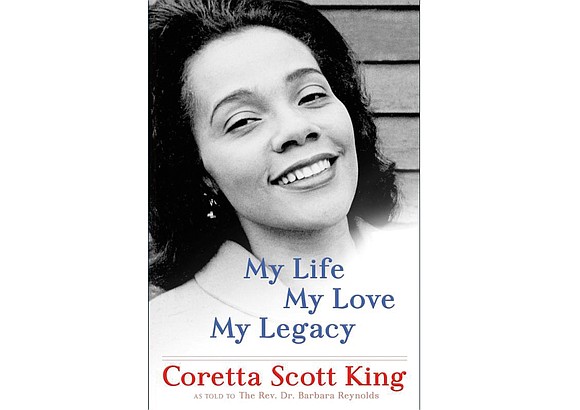 Special from Trice Edney News Wire
Toward the end of her life, Coretta Scott King, widow of Dr. Martin Luther King Jr., founder of the Martin Luther King Jr. Center for Nonviolent Social Change and American civil and human rights hero, commissioned Dr. Barbara Reynolds to write her memoir.  
It will be released Jan. 17, the day after the official Martin Luther King Jr. Day holiday next year.
Dr. Reynolds, a journalist and author of six books, first met Mrs. King in 1975 when she was assigned to write a magazine article for the Chicago Tribune. From that encounter, a 30-year, life-changing relationship of mentorship and friendship evolved, resulting in Mrs. King turning to Dr. Reynolds, an ordained minister, to write about her most noteworthy accomplishments but also her deepest pain and setbacks.
From the pages of this compelling book, Mrs. King emerges from the shadows, the margins of history and more importantly from behind the labels of wife of, mother of and leader of, which — while correct — never went deep enough to reveal the fullness of her life.
In her memoir, readers will see both character and courage, a woman who was not only married to Dr. King, but was married to the movement of which she was a partner. 
She was born in April 27, 1927, into the troubled and twisted times in Alabama, where her house was burned down as a teenager. Later as an adult, she was at home with her 2-year-old when the house was firebombed in 1955, during the time her husband led the Montgomery bus boycott.
Although she never knew if the same hate that killed the love of her life would also claim her life and those of her children, she refused to step aside, even as threats continued long after the assassination of her husband.
In her own voice, the book reveals a strong woman moving on through many lonely days as the architect of her husband's legacy, working tirelessly to found and develop The King Center as a quasi-international West Point of Nonviolence, lobbying for 15 years for the national holiday in honor of her husband and campaigning for the rights of the disadvantaged around the globe and at home.
In this memoir, Mrs. King talks candidly for the first time about her marriage and the rumored reports of Dr. King's infidelity. She offers her thoughts on the reasons behind SCLC co-founder Ralph Abernathy's unfavorable characterization of Dr. King in his autobiography, as well as some unproductive characteristics within the inner circle of the Civil Rights Movement.
Legendary leaders such as Maya Angelou; former U.N. ambassador and Congressman Andrew Young; Myrlie Evers-Williams, a past chairman of the national NAACP, whose activist husband, Medgar Evers, was assassinated; Rep. John Conyers, who played a major role in legislating the King Holiday bill; as well as her daughter, Dr. Bernice King, provide reflections in this historic work.
Dr. Reynolds views Mrs. King as one of the world's most trusted moral leaders and effective disciples of nonviolent direct action, who left a model of selfless, compassionate leadership that is sorely needed today.