Civil rights coalition to hold pre-inaugural march in D.C. on MLK weekend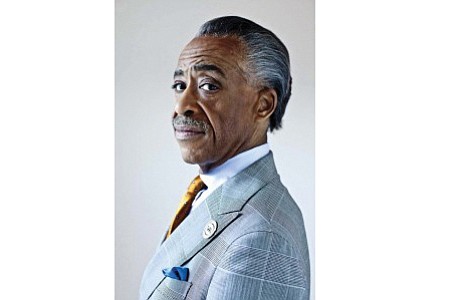 The Rev. Al Sharpton, head of the National Action Network, has announced that a coalition of civil rights and advocacy organizations will lead a march and rally at the Dr. Martin Luther King Jr. Memorial in Washington on Saturday, Jan. 14 — less than a week before the inauguration of President-elect Donald Trump.
The event will be held during the weekend leading up to the annual holiday honoring Dr. Martin Luther King Jr., and just days before the Jan. 20 presidential inauguration.
"There's no more appropriate time for civil rights leaders, faith leaders and others to raise to this nation that we cannot have the dream and principles of Dr. King violated as we go into a new administration," Rev. Sharpton said at a news conference Monday at the National Press Club in Washington.
"On the areas of voting rights, income inequality including racial disparities in employment and access to capital, in areas of health care, criminal justice and police reform, we will not stand by and watch a change in the presidency and the makeup of Congress" destroy gains made by President Obama, he said. "We will act to protect the gains and to keep moving forward," he said.
Rev. Sharpton was surrounded at the news conference by a host of faith and civil rights leaders.
He said the march will go from the Washington Monument to the Dr. Martin Luther King Jr. Memorial, where an agenda will be outlined on the theme: "We will not be moved."
During a post-election phone conference in late November with journalists and civil rights leaders, Rev. Sharpton first mentioned the march, noting that the National Action Network hosted a conference call with 413 ministers planning the march.
"Some things you can't vote out with an election. And some things will not change because a president has changed," he said at the time.
Participating with Rev. Sharpton on the conference call with media were heads of six other organizations that represent the nation's largest civil rights groups — Marc H. Morial of the National Urban League, Melanie Campbell of the National Coalition on Black Civic Participation, Wade Henderson of the Leadership Conference on Civil Rights, Cornell William Brooks of the national NAACP, Sherrilyn Ifill of the NAACP Legal Defense Fund and Kristin Clark of the Lawyers Committee for Civil Rights Under Law.
"We are not being alarmists. We are being realists about the record of the president-elect and what he has said. If people are saying we're not giving him a chance, we are willing to give him a chance. The problem is we are listening to what he has said," Rev. Sharpton said.
Mr. Morial said the group will maintain its posture of readiness to deal with issues and adverse appointments as they come from President-elect Trump.
"We are unified today and prepared to move forward. And we do this today in the spirit of understanding that this close election certainly yielded a new president-elect," Mr. Morial said, noting, however, that Mr. Trump did not win a majority of the popular vote, nor did he win a mandate to act against civil rights.