Company helps churches, nonprofits start websites — for free
12/10/2016, 7:48 a.m.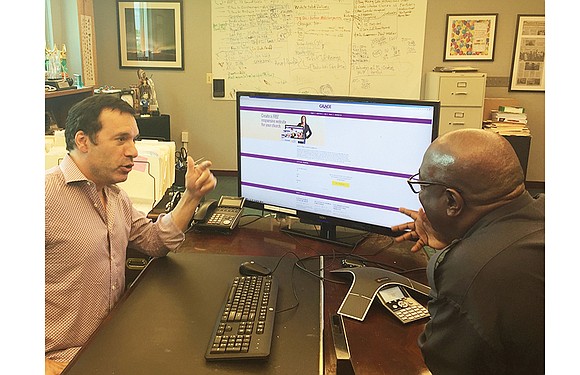 By Adelle M. Banks
Religion News Service
Members of Trueworship Tabernacle used to walk their Corpus Christi, Texas, neighborhood handing out fliers about upcoming events.
But in March, the small, multicultural church got a new website.
Six months later, its online postings helped boost attendance at its "Youth Car Wash and Enchilada Sale," as well as its "Hallelujah Night" on Halloween.
"It has been a really great tool as far as witnessing to the community and bringing people into the church," said Pastor Ahmad Haywood, who leads the congregation attended most Sundays by 25 to 40 people.
In February, TicketNetwork executive Don Vaccaro started Grace Church Websites to meet a need he discovered while talking to his friend, the Rev. Boise Kimber of New Haven, Conn.
"We had purchased a website for over $1,000 and the persons that we purchased the website from, they disappeared," said Rev. Kimber of his predominantly African-American First Calvary Baptist Church.
After a discussion with Mr. Vaccaro, Rev. Kimber's church now has a free website. It became the role model for the company the two men launched.
More than 670 participating churches and nonprofits, many of them predominantly African-American or Latino, have new sites. They include African Methodist Episcopal, Church of the Nazarene, United Methodist and nondenominational congregations, as well as chapters of the Rev. Al Sharpton's National Action Network.
"A lot of people could not afford to buy the domain and some of the churches are rural churches," said Rev. Kimber. "We are certainly dealing with the digital divide and trying to open the doors for more advancement for people who are in need."
The websites have similar templates — including an "about us" page, a listing of service times and a contact page. Some churches make regular changes to the sites, adding calendar dates for choir rehearsals and Bible study conference calls. Each site also includes links to Grace Church Websites and TicketNetwork, which hosts an online exchange for buyers and sellers of tickets to sports and entertainment events.
But other churches haven't used their sites as much and still have avatars displaying a gray silhouette rather than the actual photos of leaders of the church.
Websites in general are not always a one-stop way of adding people to a church's pews. Researcher Scott Thumma of the Hartford Institute for Religion Research said there is "still neither overly robust nor effective use by a majority of congregations" of the internet and social media.
"Smaller churches, including minority ones, are less likely to use and/or have technology," he said. "So a company that targets smaller churches, and especially minority ones, is really doing a great service for those that need it the most."
A 2015 Faith Communities Today survey, which is to be released early next year, indicates that about 80 percent of some 4,400 congregations have websites, a 10 percentage point increase from 2010. Thirty-one percent offer online giving, which raises annual per capita giving in those congregations by $114 per person.
Mr. Vaccaro, whose TicketNetwork offices are based in South Windsor, Conn., estimates that Grace Church Websites — which originally had a goal of 300 nonprofit websites — will have 1,000 participants by the end of March.