Aron Stewart's retired number not really retired at UR
Fred Jeter | 12/16/2016, 8:22 p.m.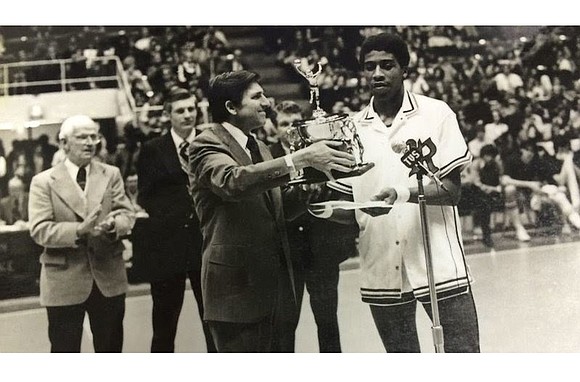 Insisting "I've been discriminated against for 42 years," Aron Stewart remains bitter toward his alma mater, the University of Richmond.
Stewart contends — with supporting evidence — he was promised his basketball jersey, No. 30, would be retired decades ago.
Instead, No. 30 has been worn by four members of the Spiders team, including current backup guard Jesse Pistokache.
"I was UR's pioneering black superstar … I should have been treated better," Stewart, now 66, told the Richmond Free Press.
UR Athletic Director Keith Gill declined to comment.
Here's what history tells us:
From Jersey City, N.J., Stewart transferred to UR from Essex Community College in New Jersey prior to the 1972-73 season and sparkled under Spiders Coach Lewis Mills.
He became the second African-American to play for UR following Carlton Mack, who joined the team in 1971.
In two brilliant seasons, Stewart averaged 30.2 points per game as a junior and 26.5 as a senior. His 28.1 points per game career mark is UR's all-time high.
The 6-foot-5 forward also averaged 12 rebounds and helped what had been a struggling UR program ascend from mediocrity to a near NCAA berth. The Spiders reached the Southern Conference tournament final in 1974, losing to Furman University, within one victory of a first-ever NCAA bid.
Stewart was named Southern Conference Player of the Year in 1973 and the Southern Conference Tournament Most Valuable Player in 1974.
He was honored with "Aron Stewart Day" Feb. 23, 1974, during UR's regular season finale against the College of William & Mary. During the midcourt, halftime ceremony at the Robins Center, UR's legendary Coach Malcolm "Mac" Pitt told Stewart on the public address system that "No. 30 will never be worn again by a Spider basketball player."
That quote appeared in published reports in a daily Richmond newspaper.
Coach Pitt was 81 at the time and retired from active UR duties. He was a former Spiders' baseball, basketball and football coach and served as athletic director from 1942 to 1967. While he may have been breaking protocol by declaring Stewart's number would be retired, he clearly ranks with most revered people in UR annals. He died in 1985.
Other speakers for "Stewart Day" were Coach Mills, radio announcer Frank Soden and then UR President E. Bruce Heilman.
In the better part of a century of hoops, UR has retired only three numbers — No. 22, Warren Mills; No. 20, Johnny Newman; and No. 14, Kevin Anderson.
Newman and Anderson are African-American.
In 2010, Stewart was named to UR's Athletic Hall of Fame. He did not attend the ceremony, however, convinced the honor was much too long overdue.
With the Hall of Fame issue settled, albeit with frayed feelings, Stewart now is focusing on the jersey controversy. He has launched a petition on Change.org, seeking support for his cause. As of Dec. 6, he had 74 supporters.
"I feel my career was for naught," Stewart said. "It's pure racism. I'm not going to dress it up."
Stewart, a superb athlete who jump-started UR's basketball program, also helped open the doors more widely at UR for athletes of color to follow. Now, instead of basking in the glow of his success, he's overwhelmed with frustration.