Michigan officials face charges in Flint water crisis
Reuters | 12/23/2016, 5:18 p.m.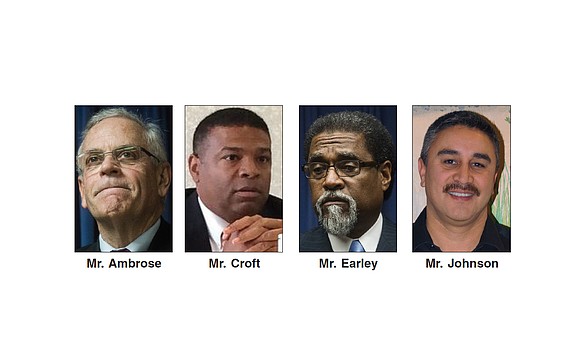 Reuters
Michigan prosecutors on Tuesday charged four former government officials in Flint, including two city emergency managers, with conspiring to violate safety rules in connection with the city's water crisis that exposed residents to dangerous levels of lead.
Former state-appointed emergency managers Darnell Earley and Gerald Ambrose and former city employees Howard Croft, a public works superintendent, and Daugherty Johnson, a utilities manager, were the latest to be charged in the case, Michigan Attorney General Bill Schuette said.
The defendants conspired to operate the city's water treatment plant when it was not safe to do so, he told reporters at a news conference in Flint.
"Flint was a casualty of arrogance, disdain and failure of management, an absence of accountability," Mr. Schuette said.
Michigan has been at the center of a public health crisis since last year, when tests found high amounts of lead in blood samples taken from children in Flint, a city of about 100,000 residents who are predominantly African-American.
Asked whether the investigation would lead to charges against higher-placed state officials, Mr. Schuette reiterated that no one was excluded.
Some critics have called for high-ranking state officials, including Michigan Gov. Rick Snyder, to be charged. Gov. Snyder has said he believed he had not done anything criminally wrong.
The governor's spokeswoman, Anna Heaton, said by email that the state remains committed to helping Flint recover.
Flint Mayor Karen Weaver said the latest indictments also show the failure of the emergency manager system adopted by the state, as those not beholden to the city made decisions that endangered residents' lives. She called on the state to send more financial aid to the city.
Mr. Johnson's attorney, Edward Zeineh, said his client pleaded not guilty in court on Tuesday. "We will vigorously defend these proceedings in court," Mr. Zeineh said.
Court documents did not list attorneys for the other three men. An attorney who previously represented Mr. Earley could not be reached for comment.
The accused face felony charges of false pretenses and conspiracy to commit false pretenses. Each charge can carry prison terms of up to 20 years and/or fines, officials said.
Flint resident Gina Luster, whose 8-year-old daughter suffered lead poisoning, wants to see those charged pay a price for their roles in the crisis.
"To see convictions and jail time is the ultimate goal for me," she said by text.
Flint's water contamination was linked to an April 2014 decision by a state-appointed emergency manager to switch the city's water source to the Flint River from Lake Huron in an attempt to cut costs.
The more corrosive river water caused lead to leach from city pipes into the drinking water. The city switched back to the previous water system in October 2015.
"It's all about numbers over people, money over health," Mr. Schuette said.
The initial change in the city's water source was made while Mr. Earley, 65, was emergency manager.
At hearings on the crisis in Washington last March, lawmakers criticized Mr. Earley for failing to ask enough questions about the safety protocols in place at the time of the switch. In his testimony, Mr. Earley blamed city and federal officials for the problems, and said the decision to switch was made before his tenure.
"A broad net is certainly being cast," Virginia Tech professor Marc Edwards, a water engineer who first raised the issue of Flint's lead contamination, said by email.
Lead can be toxic and cause brain damage, with children being especially vulnerable. The crisis has prompted lawsuits by parents who say their children have shown dangerously high levels of lead in their blood.
Thirteen current and former state and local officials have been criminally charged in relation to the crisis.