Kwanzaa 50-year-old holiday
Henrico family sees value, impact of celebrating the 7 principles of the 50-year-old holiday
12/30/2016, 9:22 a.m.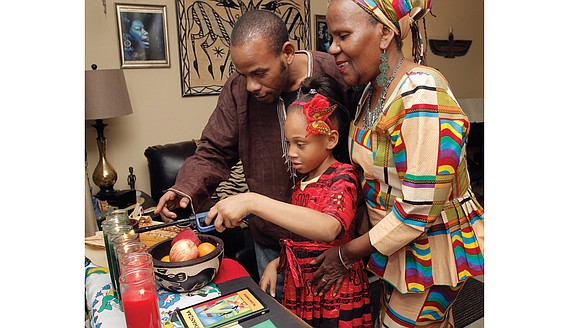 By Lauren Northington
Shakila Davis and her family have celebrated Kwanzaa since the 1970s.
And for Mrs. Davis, celebrating the African-American holiday that is now in its 50th year is as important as ever.
"I've been teaching this holiday to people since the 1970s," said the retired home economics teacher at Henrico High School and yoga instructor, "and Kwanzaa is for all of us in the diaspora."
Kwanzaa, which officially began on Monday, Dec. 26, and lasts until Sunday, Jan. 1, celebrates seven principles, or the Nguzo Saba, one of which is observed each day during the holiday.
The seven principles are "umoja" or unity; "kujichagulia" or self-determination; "ujima" or collective work and responsibility; "ujamaa" or cooperative economics; "nia" or purpose; "kuumba" or creativity; and "imani" or faith.
During the weeklong celebration, observers light one candle of the kinara or candleholder, share stories of family history and exchange gifts, often books on African-American history and culture.
For many in the United States and throughout the world, Kwanzaa is a time during which African and African-American culture is intentionally celebrated.
The holiday and its rituals generally are celebrated using Kiswahili, a language chosen because of its roots as a trade language in Africa.
Mrs. Davis, who held community Kwanzaa celebrations yearly at the North Richmond YMCA before her recent retirement, believes Kwanzaa built pride in her children as thinkers and doers.
Her sons, Ramel Dotson and Hakim Bey, are now 42 and 40, respectively. One is a martial arts business owner and the other works for the U.S. Postal Service. They live in the Richmond area.
She has four grandchildren ranging in age from 8 to 16 who are with her during the school break.
"Each day, we wake up and say to one another, 'Habari gani?' " Mrs. Davis said on Wednesday, referring to the celebratory Kwanzaa greeting meaning, "What's the news?"
"And they responded, 'Ujima,' because that is the principle we're celebrating today," she continued.
"And then, of course, the next question they asked today is, 'What should we clean up, Grandma?' " Mrs. Davis said laughingly. "The children are very helpful."

Ujima, observed on Wednesday, Dec. 28, celebrates collective work and responsibility, said Mrs. Davis.
"I've got one making the beds up, one cleaning the bathroom as we speak."
Mrs. Davis said she, her husband, Kevin Davis, their two sons and grandchildren host a large Kwanzaa party at their Western Henrico County home for friends and family, offering daily African and diaspora history lessons to their grandchildren and lighting the kinara.
Dr. Maulana Karenga, an Africana studies professor at California State University, Long Beach, created the seven-day holiday in 1966 as a celebration of the lives and culture of people of African descent.
"We reflect on the expansive meaning of being African in the world, on the context and issues of our times, and on our way forward in struggle to forge a future responsive to our needs and interests as well as those of the world," Dr. Karenga, a native of Maryland's Eastern Shore, said in a statement last week on Kwanzaa.