Former presidential candidate Wilder offers advice to Clinton campaign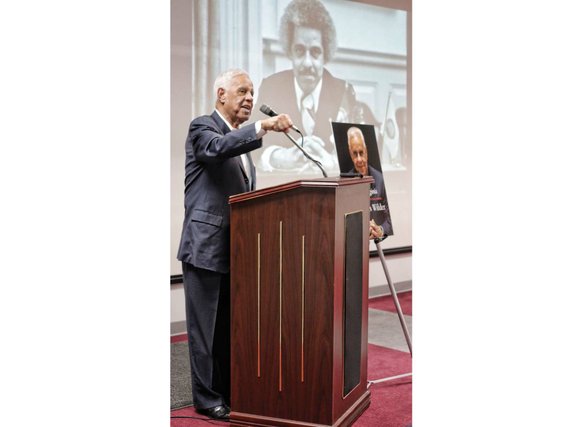 "If you have no more than education," he later added, "you are one step ahead of the person who doesn't have it."
In opening remarks, VUU President Claude G. Perkins introduced Mr. Wilder — who grew up in Church Hill and served in the state Senate, as lieutenant governor and as Richmond's mayor — as a "man from the East End who has gone to the far ends of the world to carry the message of hope, equality and dignity to mankind."
Richmond residents and longtime friends LaVerne Cooper and Florence Neal Cooper Smith said they were thrilled they could come to see Mr. Wilder at the book signing event.
"We went to Armstrong High School with him from 1943 through 1947 and then went to Virginia Union with him from 1947 through 1951," Mrs. Cooper said. "And our husbands were members of the Omega Psi Phi Fraternity with him and they were all friends. And we still stay in touch with him today," she added.
"We're so proud of him," Mrs. Smith said. "He's always been a leader and a go-getter."
Former Richmond Judge Willard H. Douglas Jr., who sat near the former governor, noted that when he was elected in 1974 by the General Assembly and became the state's first full-time African-American judge, it was then-Sen. Wilder who had nominated him.
"He helped me and a lot of other people along the way," the retired judge said. "He has been a great public servant for the state and the nation."
After his address, about 70 people lined up to have their books signed by Mr. Wilder.
Dr. Gerard McShepard, chair of VUU's Department of Natural Sciences, was first in line.
"We talk about him in one of my classes on African-American perspectives in science," Dr. McShepard said. "He graduated from Virginia Union with a degree in chemistry and we talk about how he used his degree in the STEM field to accomplish all that he has."
Behind him, Delores Llewellyn, an associate math professor, said, "He's an inspiration to all of us on what you can become in life with hard work and determination."
Jamal Ciego, a VUU junior majoring in history and political science, said he wanted to see "in person the first elected African-American governor in the nation, who has done a lot of great things. He's an inspiration to a lot of people like me."