At African-American churches
Fellowship with heaps of food
2/26/2016, 7:30 a.m.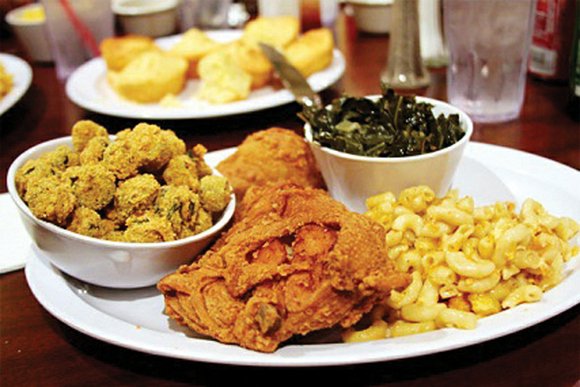 By Frederick H. Lowe
Special to the Trice Edney News Wire from NorthStarNewsToday.com
After the Fourth Sunday of Advent Service in December, members and guests of St. Martin's Episcopal Church, a mostly African-American church on Chicago's West Side, celebrated by hosting a special Advent brunch.
And special it was. Spread out on two long tables in a second-floor room between the kitchen and the pastor's office were big aluminum pans of ham, turkey, fried chicken, spaghetti, mashed potatoes, gravy, slices of white bread, salad, salad dressings and collard greens. For dessert, there was peach cobbler and several varieties of cookies, along with hot coffee, tea, sodas and water.
Church members sat in folding chairs, balancing their plates on their laps, eating, talking and laughing, often going for seconds. Some members ate in a back room where there was a table.
Father Christopher Griffin, St. Martin's pastor, held a plate overflowing with food in one hand. His stomach sticks out well over his belt buckle. When asked if he was concerned about his weight, he said, "Sure, I'd like to lose weight. Doesn't every American?"
The gathering went on for several hours before members, who also include Asians, Hispanics and white people, washed the plates, pots and pans before cleaning the kitchen to go home.
There was so much food, church members saved the leftovers for the dinner that would be served after the Christmas Eve service. In addition to the special meals, there's coffee hour, which is held most Sundays. Large amounts of food are also served at coffee hour.
High obesity rate
Dinners served after church services have been used by some to explain the high obesity rates among black people. At the same time, the calorie-laden dinners also provide fellowship for African-Americans, a sense of easy community they may not experience elsewhere during the week, particularly given the prevalence of racially motivated slights, the tense anticipation of slights, or worse, the possibility of violent physical assault.
African-American men and women who eat high-fat comfort foods, such as macaroni and cheese, register higher rates of obesity than most other groups in the United States. These men and women, however, took different paths on the road to excessive girth. In both cases, many African-Americans end up suffering from such debilitating physical ailments as diabetes, high blood pressure and heart disease that shorten their lives compared with other racial and ethnic groups.
Eating to reduce stress
African-Americans eat high-fat foods as a way to reduce stress, which comes from living in poverty and residing in neighborhoods with inadequate housing and high crime rates, said Dr. James S. Jackson of the Institute for Social Research at the University of Michigan, during a seminar at November's Gerontological Society of America conference held in Orlando, Fla.
He explained that even middleclass or wealthy African-Americans suffer from daily microaggressions — subtle or not so subtle racist insults — in which they are unjustly viewed as thieves or suspected criminals because of their skin color.
Women clutch their purses in fear when they see black men. Armed security guards follow black male shoppers throughout stores believing black men may be there to steal, not to shop. A cop in a retail store gripping the butt of his gun at the sight of a black man who is minding his own business sends an unambiguous message of threat.