Toasting the new year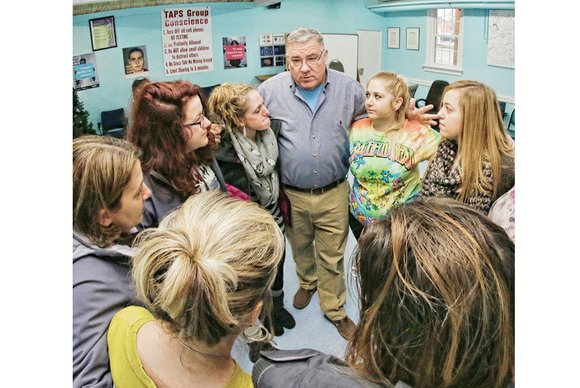 The holiday season will be punctuated this weekend by the granddaddy of all celebrations — New Year's Eve on Thursday, Dec. 31, and New Year's Day on Friday, Jan. 1.
While people throughout the Richmond area will party and pop open more than a few bottles of champagne to toast the new year, the holiday can be a particularly perilous time for people in recovery.
It can hold dangerous temptations for those seeking to abstain from using alcohol and other drugs as they join family and friends at parties where such substances might be available.
"Knowing I have a disease that wants my life, I tighten up my recovery by going to more meetings during the holidays to ensure I stay clean," said a Richmond member of the recovery community who identified herself as Dee. She said she is celebrating more than 20 years free of drug use.
Several recovering alcoholics and drug abusers talked with the Free Press with the assurance that their identity would remain anonymous.
"The holidays are more challenging times because we're more open to interacting with people, places and things (where people are drinking alcohol or using other drugs). And there are a lot of parties where people are more receptive to enjoying the holidays rather than concentrating on their recovery," said Duck P., a South Richmond man who is marking 27 consecutive years without using drugs.
Even the most innocent of things — holiday sweets and treats — may trip up the unsuspecting.
"Some people use rum in their food and that can be a trigger. So I watch what I eat," said Deborah of Chesterfield County, who is celebrating 21 years without using any mood-altering substance.
"I also stay away from people, places and things" that I knew in my active addiction, she said.
To help, some Alcoholics Anonymous and Narcotics Anonymous 12-step fellowships in the Richmond area host marathon meetings — all-day and all-night sessions providing a safe haven. Others in the recovery community open their residences so people can play cards, listen to music, dance and socialize in an alcohol- and drug-free environment.
Such efforts are vital in providing a lifeline to people in recovery trying to stay on the straight and narrow.
According to data from the 2014 National Survey of Drug Use and Health by the U.S. Department of Health and Human Services, about 488,000 people in Virginia were dependent on or abused alcohol during the survey period, while 165,000 Virginians were dependent on or abused illicit drugs.
Jimmy Christmas, a 54-year-old licensed clinical social worker from Richmond who co-owns Comprehensive Counseling Services in Glen Allen, is among those successfully navigating the recovery path one day at a time.
"I don't use no matter what to show my gratitude for being given another chance at life," said Mr. Christmas, who now is celebrating his 23rd consecutive year of not picking up a drink or other drug.
He said he was in a death spiral fueled by alcohol and cocaine abuse before surrendering to seek recovery in 1992.