Mayoral hopeful hosts symposium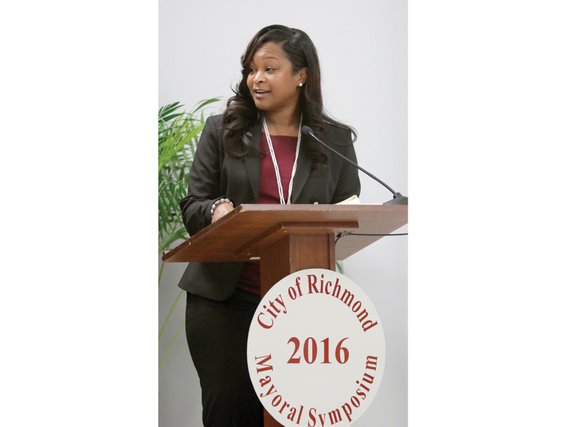 It had all the appearances of an event designed to promote her candidacy for the Richmond mayor's job.
But Richmond City Council President Michelle Mosby denied that to be the case this week during the Mayoral Symposium that featured three current and former female African-American mayors from across the nation.
"I was asked to serve as host for the mayors to help to begin a conversation in Richmond about electing our next mayor," Ms. Mosby told the Free Press on Monday, the first day of the three-day event. "The sponsors knew I planned to run for mayor and extended an opportunity to me to host the ladies and to learn from them. I am honored."
Five current and former female African-American mayors were listed as symposium participants in an elaborate, 16-page invitation packet that was sent to invitees.
Of the five, Shirley Gibson, former mayor of Miami Gardens, Fla., and Mayors Tyus Byrd of Parma, Mo., and Toni Harp of New Haven, Conn., attended.
State Sen. Mamie Locke of Hampton, a former mayor in that city, and former Washington D.C. Mayor Sharon Pratt-Kelly also were invited, but did not attend. Sen. Locke was too busy preparing for Wednesday's start of the 2016 Virginia General Assembly to attend, according to a representative. Ms. Pratt-Kelly was fighting an illness.
The three-day event, including activities around the city and luncheons and dinners, was organized and paid for by Harold L. Watkins II of Harry Co. LLC, a North Side mental health and behavioral services provider, and Charles and Wanda Crenshaw of Summit Construction & Environmental Services, Ms. Mosby said.
Mr. Watkins and Mr. Crenshaw told the Free Press on Tuesday they likely would spend between $5,000 to $7,000 to fly in the mayors, provide hotel accommodations, pay for meals and provide transportation.
Mr. Watkins said he began formulating his plan in September "to get as many candidates as possible for the mayor's position together. I actually called quite a few folks who had expressed interest or at least whispered that they were interested in running, and none of them were definitive about it.
"We thought we'd get a dialogue about what we wanted from the next city mayor," he added.
Both men said they support Ms. Mosby's candidacy.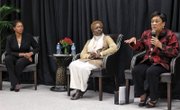 "I think President Mosby is one of the best candidates out here and she has my support," said Mr. Watkins, a Richmond resident. "I certainly enjoy her passion and enthusiasm for the city of Richmond and that's very encouraging."
Mr. Crenshaw, who lives in Powhatan, said, "She shares some of the same interests in the community that I do and I love her strong spirit."
The men said they are seeking a mayor who will work to alleviate the conditions that cause poverty, can build partnerships with businesses, agencies and other community groups to help provide jobs and workforce development and will be a proponent for educational opportunities for all.
So far, Ms. Mosby and Lillie Estes, a community activist and strategist who announced her intent to run last summer, are the only two candidates to officially announce their candidacies for mayor. But at least seven more candidates are expected to throw their hats into the ring before the Nov. 8 election.
Ms. Mosby told the Free Press, "I have officially filed my paperwork with the registrar's office and my candidacy has officially begun."
Her tone was light-hearted but confident when she took the podium at the conclusion of Tuesday's panel discussion.
"What I always wanted to do was help people," Ms. Mosby told an audience of about 30 people. "It's amazing to be around some ladies that that is their passion as well, and it drove them into places that perhaps they may not have thought they would be in, but you're there.
"And with that, you were able to give information that can help me when I become mayor to move the city forward," she said, laughing briefly.
"At the end of the day, we have to have a vision, but with that vision, we have to make sure we can articulate it and bring results."