58: Number of candidates certified to run for mayor, City Council and School Board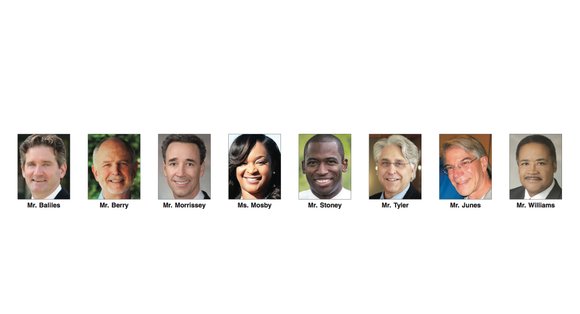 5th District: Incumbent Parker C. Agelasto will face Montigue T. Magruder and Garrett L. Sawyer.
6th District: Incumbent Ellen F. Robertson will face Donald L. Moss III.
7th District: Incumbent Cynthia I. Newbille will face Josh M. Williams.
8th District: Incumbent Reva M. Trammell will face Amelia Lightner.
9th District: Leon Benjamin Sr., Michael J. Jones, Germika T. Pegram and Marcus Omar Squires.
School Board
Voters in five School Board districts also will be selecting new representatives. Two current members, Ms. Gray, 2nd District, and Ms. Larson, 4th District are seeking to move to City Council. Two other members, the Rev. Donald L. Coleman, 7th District, and Dr. Derik E. Jones, 8th District, chose not to seek re-election. A fifth incumbent, Tichi Pinkney Eppes, 9th District, failed to qualify for the ballot, and Linda Baker Owen, the only person who filed to challenge Ms. Pinkney Eppes, is now running unopposed.
In the four other districts, incumbents seeking new, four-year terms are facing challengers.
Here are the candidates in the races for Richmond School Board:
1st District: Incumbent J.E. Dawson Boyer, who earlier this year was appointed to replace now state Sen. Glen H. Sturtevant Jr., will face Liz B. Doerr.
2nd District: J. Scott Barlow and Mariah L. White.
3rd District: Incumbent Jeff M. Bourne will face Jessee M. Perry and Kevin A. Starlings.
4th District: M. Barrett Hardiman, Irvine Lee Reaves Jr., Sean M. Smith and Jonathan M. Young.
5th District: Incumbent Mamie L. Taylor will face Patrick M. Sapini.
6th District: Incumbent Shonda M. Harris-Muhammed will face Felicia D. Cosby.
7th District: Kirsten Y. Gray, Nadine D. Marsh-Carter and Richard S. "Rick" Tatnall.
8th District: Dawn C. Page, Tia S. Redd and Christopher J. Woody Sr.
9th District: Linda Baker Owen.