Ali laid to rest in send-off 'fit for a king'
6/17/2016, 11:30 a.m.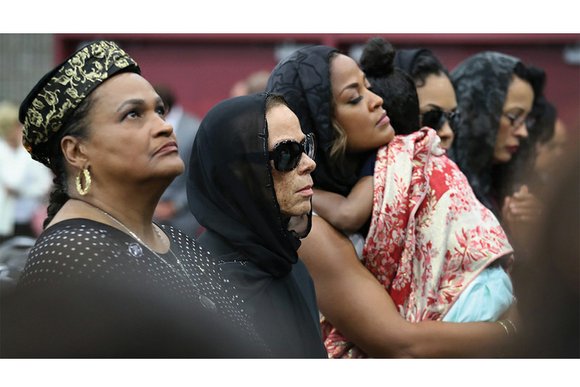 Unable to attend because of his daughter's graduation, President Obama sent senior adviser Valerie Jarrett as his representative.
Minister Louis Farrakhan, boxing promoter Don King and civil rights leader Jesse L. Jackson Sr. also were in attendance.
Former President Bill Clinton, U.S. Sen. Orrin Hatch of Utah and comedian Billy Crystal were among the speakers at the three-hour service that began with prayers from the Quran. The moderator was an imam from Memphis. Two rabbis, a Roman Catholic priest, leaders of two American Indian tribes and a Baptist minister participated in the program.
Sen. Hatch, a friend to Mr. Ali for 28 years, said Mr. Ali was "an effective emissary of Islam." He said Mr. Ali showed us all the path of greatness.
He said Mr. Ali told him "God gave me this condition (Parkinson's) to remind me always that I am human and that only He is the greatest."
Lonnie Ali, a Louisville native and Mr. Ali's wife for 30 years, gave a moving tribute to her husband.
"He wanted us to use his life and his death as a teaching moment for young people and the world," she said. Mr. Ali "may have challenged the government, but he never ran from it, or from America."
Ambassador Attallah Shabazz, daughter of the late Malcolm X, gave a tearful tribute to Mr. Ali. A Louisville for the last six years, she said, "Having Muhammad Ali in my life somehow sustained my dad's breath for me just a little while longer, 51 years longer until now."
Former President Clinton said Mr. Ali was not imprisoned by Parkinson's disease. He recalled Mr. Ali's carrying the Olympic torch in 1996 at the Atlanta games. "He was going to make those last steps, no matter what it took. The flame would be lit, no matter what, the fight would be won."