Miss Thompson marries Dr. Haskell
3/11/2016, 11:59 a.m.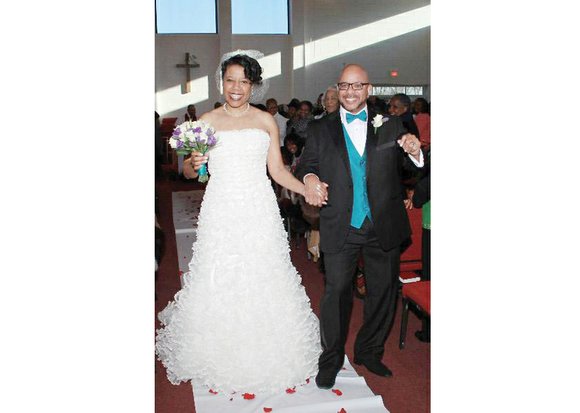 As the featured "Personality" in the Free Press edition published July 18-20, 2013, Dr. Marlon A. Haskell, pastor of Chicago Avenue Baptist Church, said his next goal was "to marry again, and fulfill God's assignment for our lives."
Well …
Dr. Haskell and Angela Rene Thompson of Richmond were joined in holy matrimony Saturday, Dec. 19. Dr. Don J. Hayes, pastor emeritus of Springfield Baptist Church in Mechanicsville, officiated at the ceremony held at Chicago Avenue Baptist Church.
The bride is the daughter of Mr. and Mrs. Joseph J. Jones Jr. She earned a bachelor's degree in accounting from Pace University and a master's degree in information technology from Webster University. She is a certified public accountant employed as senior lead auditor with Altria Client Services LLC.
The groom is the son of Juanita Haskell Anderson and Cornelius Anderson, and William Edward Page. He earned a bachelor's degree in rehabilitation services from Virginia Commonwealth University and his master's of divinity and doctorate of ministry from Virginia Union University's Samuel DeWitt Proctor School of Theology.
Dr. Haskell also is president of the Baptist Ministers' Conference of Richmond and Vicinity.
Following an April honeymoon in Hawaii, the couple will reside in Chester.